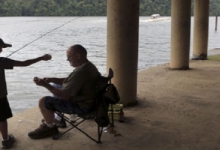 Posted on July 27, 2015
By Robby Korth, Roanoke.com
When it began filling up in 1940, the sediment from upstream started flowing in with the water.
And as water streams into the lake today, it continues to bring in silt to the 4,500-acre lake. And as more dirt flows in, the lake can hold less water, making boat navigation more difficult, locals' docks tougher to use and even impacting Pulaski County's water supply to the point that officials have almost $2.5 million in infrastructure improvements planned for the next two years.
"Siltation is a huge problem for the lake," said Laura Walters, president of Friends of Claytor Lake.
READ FULL ARTICLE HERE