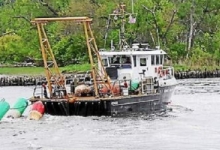 Posted on July 25, 2015
By William J. Kemble, Oneida Daily Dispatch
About four-tenths of a mile of the Esopus Creek, starting at the point where it meets the Hudson River, will be deepened by 3 to 5 feet starting in September.
Village Board member Patrick Landewe said the work, to be overseen by the U.S. Army Corps of Engineers, will be done around the clock.
"They're optimistic that the dredging will be done in three weeks, but that's going to be 24/7, noisy and bright all night long," he said.
"It's going out to bid this summer and they hope to have somebody under contract by the end of August," Landewe said. "It's a federal navigation channel, from the mouth of the creek. It actually extends past the Coast Guard station, but they're only going to be dredging where there's a shoal that's developed there."
READ FULL ARTICLE HERE