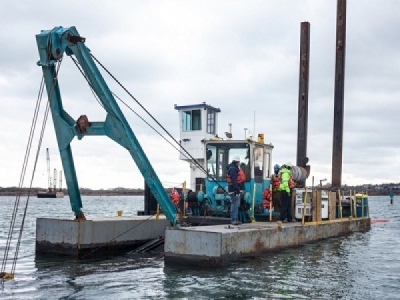 Posted on October 3, 2016
By Nelson Sigelman, MV Times
The U.S. Army Corps of Engineers Tuesday informed Aquinnah, Chilmark, and Wampanoag tribal officials that it has cleared the way for dredge contractor J-Way Southern of Avon, Ohio, to return to Martha's Vineyard this fall to complete the unfinished $2.2 million project to dredge Menemsha Channel.
J-Way is scheduled to begin mobilization activities in October, with most of the equipment arriving after the end of the Derby, Craig Martin, project manager with the Army Corps of Engineers, told Island officials in an email received Tuesday: "All in-water dredging work is to be completed by Jan. 10, 2017 (barring any excusable delay), and removal/demobilization of all equipment from the area by the end of January."
J-Way began the project one year ago, but failed to meet its Jan. 31, 2016, completion date and was unable to gain an extension due to environmental concerns for winter flounder. The company, which hoped to resume work this fall, got into hot water with up-Island officials when it failed to remove its equipment from the channel and roadway until forced to do so by the Army Corps, which terminated his contract.
At the time, Al Johnson, J-Way Southern owner, said he spent $600,000 putting the project in place, and then was not allowed the two and a half weeks he estimated he needed to complete the project, to protect a winter flounder resource that few local fishermen said even exists.
Mr. Johnson said "the easy fix" for the government was to terminate his contract. He threatened to sue.
In his email to town officials, Mr. Martin said the Corps had signed an agreement to proceed with J-Way and its bonding company to complete the remaining maintenance dredging work this fall and winter. "This solution is in the best interest of the Government as it is the most cost- and time-effective option to ensure completion of the maintenance dredge with beach placement this upcoming work season," he said.
In a telephone call Wednesday, Bret Stearns, director of the Wampanoag Tribe natural resources department, and point man in the effort to have the channel dredged, said, "We are thankful that this important project is getting back on track."
When completed, the dredging will clear a swath in Menemsha Channel eight feet deep at low mean tide and 80 feet wide, from the jetties at Menemsha Harbor entrance, past West Basin and the red nun, past Long Point, known locally as Picnic Point, into Menemsha Pond.
The bedeviled project was originally scheduled to begin in October 2014, but delays in securing state and federal permits pushed the project back to 2015.
In 1945, Congress designated Menemsha Pond as a harbor of refuge for ships seeking protection from severe and inclement weather conditions. Since that time, a number of dredgings and jetty repairs have been completed in Menemsha Creek in order to allow vessels safe passage.
Source: MV Times