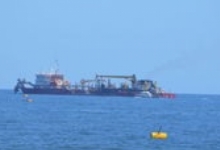 Posted on June 4, 2015
The dredge pumping sand onto the beaches in the south end will be out of commission for at least six weeks, a US Army Corps of Engineers spokesman said Wednesday.
The Liberty Island, a hopper dredge owned by Great Lakes Dredge and Dock Co. of Illinois, is undergoing engine replacement in Norfolk, Va. after it broke down on Saturday, May 30. According to Richard Pearsall, a spokesman with Army Corps Philadelphia District, which is overseeing the beach replenishment, the estimated completion date has been moved from mid-July to early September.
"As you can understand, we're disappointed but understand that mechanical things do occur," Ocean City business administrator Jim Mallon said.
He said that the administration is optimistic that once the dredge is repaired, operations will resume at the pace they were going prior to the engine failure.
"We want to stay optimistic," Mallon said.
The project, which started April 16, was about 40 percent complete when the dredge went down. It had moved from the first stage of the pumping between 36th and 49th streets, to the second stage between 49th and 59th streets. On Friday, May 29, Mayor Jay Gillian said the project was nearing 51st Street, continuing north to 48th Street, before it would turn around finish the final leg between 55th and 59th streets.
While the work has progressed, Ocean City has been closing the portions of the beach affected and offering a shuttle for beachgoers in that area to a nearby street. Mallon said that the city is waiting for more information from the Army Corps on how to progress, but plans to allow access to as many areas as possible while the dredge operation is stalled.
"We'll open as much as we can and make the beaches available for as many people," he said. "Once we get into the heart of the season, things get a little more crowded, and we want to make sure were still working with the public to provide them with the best service we can."
The city and the Army Corps are meeting Friday, June 5 to discuss the path forward, Pearsall said.