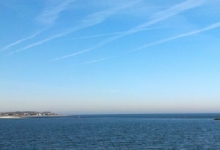 Posted on August 15, 2015
By Beth Young, East End Beacon
The U.S. Army Corps of Engineers is planning to go ahead with long-languishing plans to continue to allow the dumping of toxin-laden dredge spoils from Connecticut rivers into the Long Island Sound, and environmentalists on Long Island are gearing up for a fight.
The Army Corps plans to release a Dredged Material Management Plan and an Environmental Impact Statement, ten years in the making, next Mon., Aug. 17, and will hold the first of four public hearings on Aug. 24 in Port Jefferson.
North Fork Environmental Council President Bill Toedter and Citizens Campaign for the Environment Executive Director Adrienne Esposito asked the Southold Town Board at its work session Tuesday to join a growing coalition of lawmakers and environmental advocates in asking for more time to review the plan, which will be available online next Monday here.
READ FULL ARTICLE HERE