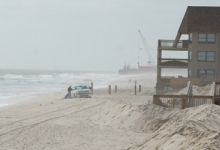 Posted on August 11, 2015
By Karen Wall
Sixteen easements signed by Toms River beach associations have been rejected by theU.S. Army Corps of Engineers because of language contained in so-called supplementary agreements, according to a report.
The Asbury Park Press report says the easements, needed for beach replenishment work that will include dune construction along the oceanfront, include language in a supplementary agreement that gives assurances for property owners that no bathrooms, boardwalks or other facilities will be constructed on their property when the beach replenishment project is completed, unless the owner gives written consent for such facilities.
Of particular concern is language about dune walk-over structure access and the owners' right to perform maintenance or other work on the dunes, an Army Corps spokesman has said.
READ FULL ARTICLE HERE