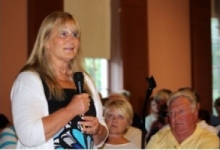 Posted on August 3, 2015
The deadline has been set.
Army Corps of Engineers officials say a group of Sandwich property owners must sign paperwork by July 31 granting permanent easements on their land or the 150,000 cubic yards of sand that the Army Corps is dredging from the Cape Cod Canal will be dumped in Cape Cod Bay instead of on Sandwich beaches.
But the Sandwich property owners say asking them to grant permanent easements on their land to the federal government is not fair.
Irene Davis, founder of the group Trustees for Sandwich Beaches, said, "I'm feeling like all of the onus is being put on the property owners and there's no room for negotiation when it comes to the Corps and I think that that's unfair."
More than 100 people turned out for the meeting Thursday night at Sandwich Town Hall to hear the Army Corps present their proposals for the $5.2 million dredging and beach renourishment project.
Because of the severe erosion that has taken place in the area of Town Neck Beach, some property owners need to grant easements to the Army Corps in order for the sand to be deposited on the beach.
The Army Corps is intending to pay for 65 percent of the project. The town of Sandwich would pay 35 percent for a total of $535,000. The work is scheduled to begin by Thanksgiving.
The neighbors say they are willing to grant temporary easements but not permanent easements.
One of the neighbors, Pasquale Teti, suggested that the neighbors pay for sand that is dumped on their property and then easements would not be required. He and others, including Davis, asked the Army Corps to sit down with the neighbors to negotiate.
"We're willing to sit down and come up with some other solution. I think there are creative solutions and to just say, 'That's the rules and I'm sorry that's it,' is very frustrating to me," Davis said.
Several others at the meeting, including members of the board of selectmen, urged the neighbors to agree to the easements, saying it would bring a public good to the town.
Selectman Patrick Ellis said, "I implore people on the beach to take a bigger view of this." He continued, "I don't honestly believe anything is being taken from you. I believe this is actually putting back what nature has taken away and restoring the properties to their previous conditions."