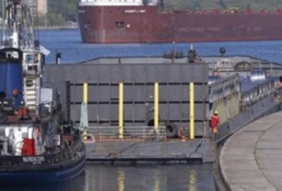 Posted on November 19, 2015
By Melissa Nann Burke, The Detroit News
The Obama administration has approved $1.35 million in funding that the U.S. Army Corps of Engineers requested for a cost-benefit study of an additional shipping lock on the river that connects Lakes Huron and Superior.
Only one of the four aging locks Sault Ste. Marie is large enough to handle ships that carry 70 percent of the cargo, and members of Michigan's congressional delegation have pushed to replace two outdated locks with a new one capable of handling the largest freighters.
Democratic U.S. Sens. Debbie Stabenow, of Lansing, and Gary Peters, of Bloomfield Township, said Monday the administration has committed $1.35 million to review upgrades to replace the Davis and Sabin Locks, which are nearly 100 years old and no longer in use. The Soo Locks transport roughly 80 million tons of raw goods and materials a year.
READ FULL ARTICLE HERE