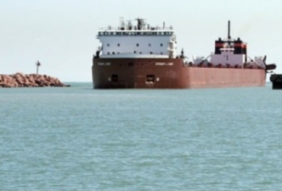 Posted on January 14, 2016
By Joseph S. Pete, nwtimes.com
ArcelorMittal is teaming up with the Lake Carriers Association to lobby for more icebreakers, more dredging and and a new lock at Sault Ste. Marie, Michigan that can handle 1,000-foot lake freighters.
"In our industry, we understand the importance of maintaining our equipment," ArcelorMittal USA manager, marine and raw material logistics Dan Cornillie said in a press release. "Because it is a major cost and investment, we plan for and monitor our equipment's continued efficient operation.
"This same attention and planning must be given to the Great Lakes to ensure the continued, uninterrupted operation of the system, which is fundamental to ArcelorMittal and other industries included in our manufacturing supply chain," he said.
READ FULL ARTICLE HERE