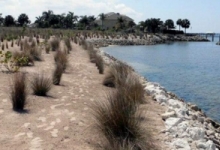 Posted on June 29, 2015
By D?Ann Lawrence White, The Tampa Tribune
Area residents can once again fish, picnic and lob volleyballs at Apollo Beach Nature Preserve. However, beach combers and sunbathers will have to wait a few more months to enjoy the restored beach planned for the park.
The county-owned park at 6760 Surfside Blvd. reopened June 17 after being closed to the public since last November for a restoration project to prevent beach erosion.
Over the past 20 years, erosion stripped away sand at Apollo Beach's only public beach, leaving behind a rocky berm. During the seven months the park was closed, the county spent $270,000 to level the berm, create upland sand dunes and construct seven 6- to 8-foot offshore rock barricades and a jetty to prevent erosion.
READ FULL ARTICLE HERE