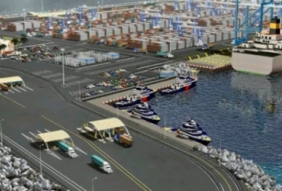 Posted on October 26, 2015
APM Terminals Moin has announced a number of port project updates enabling Costa Rica's future economic growth needs through a safe, world-class, high-productivity and environmentally-sustainable container terminal designed to serve the larger vessels entering the Latin American trades, and in particular, the temperature controlled containers through which fresh fruit such as pineapple and bananas are now being transported to Costa Rica's export markets in North America and Europe.
Costa Rica is currently the world's largest exporter of pineapples, and the 3rd-largest exporter of bananas; sugar, coffee and beef are also major export products. Costa Rica's exports totalled USD 11.75 billion in 2014, with the USA its largest export market, the destination of nearly 40% of all Costa Rican exports. In the first six months of 2015, Costa Rica shipped 933,800 tons of pineapples, 473,000 tons of which were destined for the USA.
Costa Rica's exports account for 40% of the Central American nation's GDP. Much of Costa Rica's exports of agricultural and meat products are temperature controlled; and are increasingly moving in refrigerated containers ("reefers") as opposed to being transported by dedicated refrigerated vessels. Annual worldwide refrigerated cargo shipments represent a market of approximately 100 million tons at present.
Global containerized reefer volume increased by 4.9% in 2014. Advances in reefer container operations enable not only temperature control, but also the mix of oxygen, carbon dioxide and nitrogen within the container to slow the ripening process and keep fruit fresh. Reefer containers are able to reduce costs by reducing spoilage and by taking advantage of faster and more efficient intermodal movements.
Costa Rica's Port of Limón-Moin ranked 13th in Latin America, and 4th in Central America with container volume of 1.09 million TEUs in 2014. Over the next 15 years, reefer container shipments from Costa Rica are projected to double from an estimated 300,000 TEUs to 600,000 TEUs. Pineapples and bananas alone at present account for a combined 13% of all Costa Rican exports.
APM Terminals Moin will allocate 60-70% of the terminal to refrigerated storage capacity to accommodate this expected growth, employing state-of-the-art technology.
APM Terminals Moin recently concluded a contract for the delivery of six, electric powered STS cranes and 29 electric-powered Rubber Tire Gantry Cranes (eRTGs) which will make the 1.3 million TEU, deep water container terminal one of the most advanced in Latin America upon completion of Phase One in 2018.
Dredging is underway of the access channel and turning‐basin to be deepened to 16 meters. Other construction projects include the construction of a new 1.5 kilometer breakwater with a 40 hectare container yard, 600 meters of quay and 2 berths equipped with 6 post‐Panamax cranes. Upon the completion of the project's final phase, the facility will cover an area of 80 hectares, with 1500 meters of quay, 5 berths, a 2.2 km breakwater and an access channel 18 meters deep, serving as a shipping hub for the Caribbean and Central America.
The opening of the expanded Panama Canal locks in 2016 will essentially triple the size of container vessels able to transit the canal to 12,500 TEU capacity, which current facilities at the Port of Limon are unable to handle. The current port, with a draft of 9 meters, is limited to vessels of 2,500 TEU capacity. Newer vessels on order for the Latin American trades include five 10,500 TEU vessels for German-based Hapag-Lloyd, each equipped to carry 2,100 reefer containers (4,200 TEUs).
"The future of temperature-controlled shipments is containers, and the larger containerships dedicated space to reefer cargoes. The advanced technology of APM Terminals Moin next-generation cranes will improve safety as well as efficiency, with improved environmental performance essential to handling these ships and attracting more business for Costa Rica in the port, and across the country," said Kenneth Waugh, Managing Director of APM Terminals Costa Rica.
About APM Terminals
APM Terminals operates a Global Terminal Network of 20,600 employees in 60 countries with investments in 73 ports and terminals, including eight projects in development, and 135 inland services operations. The company provides port management and terminal operations to over 60 liner shipping customers and a wide range of local inland transport and cargo services central to world trade and logistics.