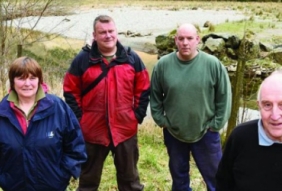 Posted on March 24, 2016
THE National Trust's attempts to "rewild" part of the Ullswater Valley have met with anger and criticism from local farmers.
The trust wants to take one of its fields out of tenant farmers' hands and leave it to nature as a year-round flood plain for Goldrill Beck.
Neighbouring fields could also be used as an overspill for the beck, which overtopped in December, severely flooding fields and the A592.
The beck starts at Brotherswater, near Hartsop, and carries water from the surrounding fells into Ullswater. But the volume of rain which fell during Storm Desmond, in December, was too much for the waterway to hold.
The five-acre field between Hartsop and Patterdale identified by the trust as a flood plain is currently used and needed by farmers Robert and Alan Wear. The Wears have tenanted Howe Green Farm, Patterdale, for five generations.
Called Robshowe, the field is important for cattle grazing and rearing, although December's floods have left it out of action and resembling a pebble beach.
It is valued by the Wears because low-lying pasture land is rare across the steep-sided valley and it is a place where cattle can graze in summer. Its remote location makes it ideal for rearing stock away from dog walkers and public footpaths, they say.
The farmers and Patterdale Parish Council would prefer to see the wrecked field restored, the damaged river bank repaired, new flood mitigation measures further up the beck and the authorities to commit to restarting proper dredging.
Alan, aged 71, told the Herald: "The National Trust is a big culprit of rewilding and the new people running it now seem to want to take us back in time. If you go through history, the river system here was built using picks, shovels and horses and carts and it kept the water where it was supposed to be.
"We also used to have a river board that kept it clear — one man who checked it and a team to go around dredging it.
"Nowadays, we have the Environment Agency, various other agencies, hundreds of computers and lots of people — yet we can't seem to manage it. We tamed water once, which we apparently can't seem to do any more."
Mr. Wear added: "The Environment Agency should have dredged it more."
Heather Jackson, aged 53, who farms at nearby Noran Bank, has fields out of action because they are filled with half-tonne bags containing rocks deposited by the floods.
Mrs. Jackson said: "Until they start dredging the beck again, they are not going to get anywhere. Because of the damage to walls, these fields aren't stock-proof now. Anything you put on them could wander out on to the main road.
"Also, when the land becomes so wet as it has, you get bad land and coarse vegetation growing on it as well, which also causes a problem. We want a nice green, grass meadow for our stock, and it all boils down to proper maintenance."
Rob Shephard, chairman of Patterdale Parish Council, is pressing for additional measures further up Goldrill Beck towards Cow Bridge, Hartsop and Brotherswater to minimise widespread flooding across fields.
Five fields in this area had holes smashed in their dry stone walls during the recent floods, the A592 towards Kirkstone Pass became impassable, the Patterdale fire engine was halted by the flooded A-road and the community was cut off north and south.
Mr. Shephard said the Wear's field flooded in 2009, when a gap the size of a double decker bus was ripped in the banking, but it was never repaired and is now more likely to flood again because the damage this time is far worse.
He added: "If nobody farmed that land and there was no other use for it, fair enough. And we are not ignoring the need for flood plains or overspills. But the reality is people do farm it. The trust has this dream that the beck is going to be self-managing and self-regulating. Whilst that's a nice idea, it doesn't work here in a valley bottom where you have very little flat, decent farmland and what decent farmland you do have, you need to protect. The only way to protect it is to keep the gravel and water off it," said Mr. Shephard.
"We are not sure if this idea is driven by money concerns related to dredging and maintaining the beck, or an ecological 'back-to-nature' rewilding philosophy, or both."
He feels the agencies concerned — National Trust, Environment Agency, Natural England, Lake District National Park Authority and highways authority Cumbria County Council — are fearful of intervening because they could be held liable. "This is the ludicrous situation we're in," he said.
The trust said in a statement that the idea was part of its contribution to a local flood defence plan. It said it strived to strike a balance between farming and natural processes.
"There is an area of land that has been identified by previous studies to slow water down in the event of a flood and help protect land and property further downstream," said a spokesman. "The aim would be to take pressure off the A592 road and avoid the desperate scenario that happened on the A591 in Grasmere.
"We would like to stress that no firm decisions have been made, and any options would be discussed further with our tenant to reach an agreeable outcome.
"As an organisation, we are looking to find solutions that benefit the community in a more sustainable way."