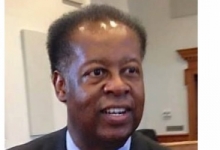 Rep. Carl Anderson
Posted on June 2, 2015
In the wake of the closing of one of Georgetown's major employers and the effect it could have on local commerce, an area lawmaker has asked the governor's office for state assistance in dredging the town's port.
On Thursday, May 28, state Rep. Carl Anderson, D-District 103, presented a letter to Gov. Nikki Haley asking for $40 million to pay for the dredging of the Port of Georgetown and, with any luck, offer some assurances for the local economy.
Although Anderson said he has discussed the dredging with Haley in the past, he saidin a telephone interview, his concerns were renewed when ArcelorMittal announced it would shut down operations at the Georgetown steel mill on May 14.
"I'm very concerned about the economic climate in Georgetown," said Anderson, who represents Georgetown, Horry and Williamsburg counties in the South Carolina Legislature. "Our steel mill will be closing in a couple of months. (So) I am asking for $40 million."
Anderson is one of several lawmakers to identify the port as an economic deterrant that may have contributed to the mill's closing. In a May 20 story, Mayor Jack Scoville told Times reporter Taylor Griffith the undredged port was a product of the "train wreck" that was U.S. commerce.
"We should have dredged the port a long time ago," Scoville said. "That would have saved the mill, probably."
Over the years, the city and county have discussed funding options to dredge the port to an approved depth of 27 feet. Although previous reports indicated the dredging would cost an approximate amount of $33 million — which was to be paid for, in part, by a voter-approved 1-cent sales tax increase — Anderson said his estimates indicated that amount would have to be increased.
"They were saying the port would take $33 million, and this was a few years ago," he said. "So we are figuring that it would take about $46 million for the port to be dredged."
Anderson's letter asks Haley to consider providing Georgetown with $40 million from a reported $400 million in surplus funds that was determined through the state's budget process. Once the port is dredged, he said, Georgetown could reap the benefits from the imports of nearby industry.
"Once we get that port dredged, it's going to bring more spinoff business from Boeing (located in North Charleston) and Volvo, which is coming to Berkeley County," he said.
Additionally, Anderson said the dredging of the port could open it up to federal funding and maintenance. To qualify for federal oversight, the port would have to move 1 million tons of freight on an annual basis. According to Anderson, once the port is dredged, that won't be a problem.
"Last year, the port did 300,000 tons, even in the condition it's in," he said. "It takes 1 million tons for the feds to maintain the port. With the port being dredged, I don't feel like that would be a hard job."
Times staff left messages with Haley's media staff to inquire about her reaction to Anderson's proposal. As of this writing, those messages had not been returned.