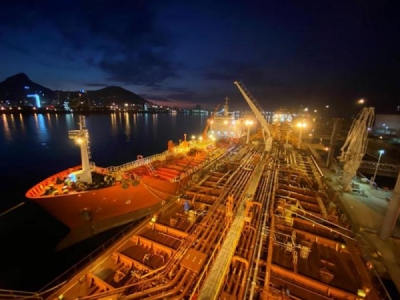 Photo credit: AMSOL
Posted on November 12, 2020
Maritime specialist solutions provider, African Marine Solutions (AMSOL), on Wednesday (4 November) said it has been awarded a multi-year contract by Shell Downstream South Africa (Pty) Ltd that will further support continued transformation in the sector and the extension of AMSOL's services in fuel logistics and transportation.
"With a changing requirement for the transportation and delivery of multiple grades of marine fuel, Shell has partnered with AMSOL to provide a world class service in the Port of Durban," said Paul Maclons, AMSOL Chief Executive Officer.
"This partnership has resulted in AMSOL acquiring a product tanker, representing a multimillion-rand investment, and will provide sustainable employment for South Africans in the specialised niche of tanker operations."
AMSOL noted the tanker is to be named ISIQALO ('The Beginning'), and will transport and deliver bunker fuels including High Sulphur Fuel Oil, Very Low Sulphur Fuel Oil and Gas Oil to vessels calling at the busy Port of Durban.
Tanker operations require effective risk management to efficiently execute the scope of work to International Oil Industry Standards, ensuring no impact on the environment and the health and safety of all personnel. AMSOL added it complies with all relevant codes and conventions.
As the leading employer of South African seafarers, AMSOL said its growth strategy has had as one of its focus areas the expansion of its marine services portfolio into the operation and management of seagoing product tankers; building on its reputation as the premier bunker barge operator in the region.
With a fleet of 18 owned and managed vessels, it is also an opportunity to further support the South African government's drive to increase the number of vessels on the South African ships' registry; an important catalyst for employment of South African seafarers.
The company noted the contract award represents the achievement of a strategic growth objective, and employees, who are shareholders in the Level 3 B-BBEE business, benefit from expansion of the company's footprint in the region.
AMSOL stated it also holds minority shareholding in Lwandle Shipping, an emerging enterprise that is being supported to become a new player in coastal fuel transportation and supply.
Source: manifoldtimes