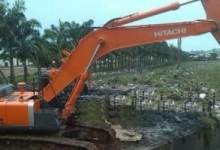 Posted on July 22, 2015
The special task force of the Accra Metropolitan Assembly (AMA) Monday pulled down more structures along the Odaw River in Accra to pave the way for the dredging of the river.
The demolition exercise, which started at 9 a.m., was supervised by the police. About 100 structures along the rails from the Graphic Road to the Sahara Park in Adabraka were destroyed in the exercise.
When the Daily Graphic visited the area, the owners of some of the structures were busily evacuating their belongings from the rubble.
Others pleaded with the task force to give them time to remove their things.
In some instances, some task force members assisted some of the affected people to remove their belongings from the structures.
A fortnight ago, the AMA and the National Disaster Management Organisation (NADMO) demolished more than 100 illegal structures along the banks of the Odaw River and the Korle Lagoon at Sodom and Gomorrah, a slum at Old Fadama, believed to have contributed to the June 3 floods in Accra.
The Chief Executive Officer of the AMA, Dr Oko Vanderpuije, explained that the objective of the exercise was to expand the natural borders of the Korle Lagoon to prevent further silting and allow the water to flow.
Yesterday's exercise was a continuation of the effort at ensuring the free flow of water in the Odaw River.
Some of the victims who spoke to the Daily Graphic said they were not surprised at the demolition exercise because they had anticipated it, following what had happened at Sodom and Gomorrah. Whereas some of them claimed they had not been informed beforehand, others said they had heard the news in the media.
Eric Adotey, a victim whose two structures on the Graphic Road were destroyed, said, "I evacuated all my belongings a week ago after witnessing the Sodom and Gomorrah demolition."
He said although he wished the AMA had given them some time to remove their structures, "I do not hold it against the authority because of the June 3 disaster," he added.
Meanwhile, some residents of Old Fadama whose structures were demolished had complained about the delay by the authorities in providing vehicles to convey them back to their home towns in the three northern regions.
They had gathered by the roadside, a few metres away from the Korle Lagoon, with their luggage, ready for the journey.
They told the Daily Graphic that some buses had arrived to take some of the people away last Sunday, but none came over yesterday, as they had been made to believe.