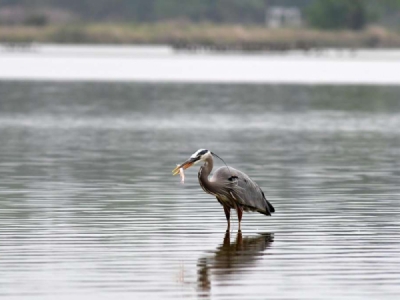 Photo: Jerry Baker, Houston Chronicle / Contributor
Posted on April 17, 2019
While Houston officials have resubmitted an application to complete additional dredging in Kingwood, residents and a U.S. representative raised concerns about the slow pace of major flood relief projects.
Chief Recovery Officer Stephen Costello said the reworked permit application was submitted to the U.S. Army Corps of Engineers on March 25.
Costello also received and submitted the results of the core study, called a Stockton Survey, performed to determine what debris came from Hurricane Harvey, he said on April 9.
The info was provided to the Texas Division of Emergency Management and FEMA and will be publicized after he receives feedback from the organizations, Costello said.
"It's something that was actually approved by FEMA for Hurricane Sandy recovery in New Jersey," Costello said. "So we just simply followed that procedure."
Under FEMA's Stafford Act, a potential funding source for the $40 million dredging of the Kingwood mouth bar, it can only pay for projects that were caused by a natural disaster like Harvey. Houston will also contribute $18 million toward the project through a grant from the governor.
Costello said the city is expecting to dredge approximately 1.4 million yards of sediment in the West Fork San Jacinto River — from downstream of West Lake Houston Parkway to the mouth bar. This is in addition to the $70 million dredging project already underway in the river near Hwy. 59.
Permit delays
When the City of Houston originally submitted their permit application in October they were denied by the Corps.
Costello and Houston Councilmember Dave Martin met with FEMA and TDEM back in October and provided technical information such as bathymetric surveys and LIDAR Mapping.
However, according to a November press release from Martin's office, the bathymetric study was performed by the Texas Water Development Board in 2011.
"The problem was the data I was using as base data was not immediately before Harvey," Costello said. "It was historical-based data. So FEMA said in a meeting back in December, two months later, that we really can't verify that, first of all, this data is accurate (and caused by) Harvey to qualify as debris. We needed to do a little more of a detailed, technical effort to identify what was Harvey related material."
Since the City of Houston has never done any maintenance dredging before they didn't have any more recent data to present.
LAKE HOUSTON GATES: Martin, state officials seek funds to dredge Kingwood mouthbars, build gates in 2019
Costello said they were advised by the Corps that the application needed to be revised because the city was seeking a nationwide permit.
"We were having to modify the application to accommodate the Corps' request, which we did," Costello said.
Resident concerns
However, Tim Garfield, a Kingwood resident and retired geologist from Exxon, said he felt the city didn't proceed with enough urgency after Harvey.
City officials were trying to complete the application process in October so the dredging of the mouth bar could be completed with the same equipment currently being used for the $70 million project that is currently underway, saving the city time and money.
However, with a four-month or more typical turnaround on Corp permit applications, the application may not be approved before the current project concludes this month.
PRE-HARVEY LEVELS: Lake Houston area officials push for post-dredging remediation efforts
"To me that's excuse making. It doesn't explain why when they knew this needed to be done by a certain date why didn't they get it done as early as possible and get the paperwork in to accelerate the process instead of doing what they've done, which is actually, they've dragged it out," Garfield said.
Costello said the city initially was supposed to work with a geomorphologist from Texas A&M in Galveston sometime in 2018, but due some contractual problems, they went with Tetra Tech, who has done the field work for the core study and other studies.
He said the delay in getting the results of the core study was because of those contract issues with the geomorphologist.
"The original proposal to do the field work wasn't going to be done until the end of March anyway, even if I used a geomorphologist," Costello said. "What we told everybody was we're going to pursue the work effort and try to get it done as soon as possible, so that's what we're doing."
Once FEMA agrees that the results from the core study did come from Hurricane Harvey and the Corps approves their permit for the sediment disposal site, the dredging of the mouth bar can begin.
CITY COUNCIL: Houston takes step in grant application for upper San Jacinto River watershed plan
However, Garfield said he is worries about going through another hurricane season without the dredging of the mouth bar.
"Here's the part that bothers me. I think people generally assume because there has been dredging of the river that the flooding issue has been resolved, and it's pretty clear that most people who understand a little bit about hydraulics and a little bit about how rivers and deltas form that until they remove the mouth bar or at least kind of channel through it, the situation may well be worse than better," Garfield said.
Costello said he has already submitted the Stockton Survey results and doesn't plan on making the core study results available to the public until he gets funding from FEMA.
"I'm not going to make it public until FEMA says it's OK," Costello said. "I'll send the results to all the federal agencies, I'm just not going to share it publicly until I hear that this is debris removal."
Crenshaw provides support
The city has made an agreement with Lake Houston area resident Berry Madden who volunteered one of his properties near the river to dump the sediment. The city is also waiting on approval of a permit for this disposal site.
"The long timeline is going to be the Corps disposal site, so we are encouraged that Congressman (Crenshaw) is going to get involved and help move that process along," Costello said.
NEEDED FUNDS: Harris County awarded $2.7 million for San Jacinto River drainage plan
U.S. Rep. Dan Crenshaw, who told residents in March that the city had not yet submitted their permit application to the Corps, is happy to assist in the process. He is hoping to work with federal officials to get the project done as fast as possible.
"I'm thrilled to see the City of Houston submit their application. Now we'll work with the U.S Army Corps of Engineers to expedite it. This is a crucial step in recovery, and our residents have waited too long for this moment," Crenshaw said.
Costello said the permit application process could take from four months to a year and a half.
"We're hoping we'll be on a much quicker timeline, and in fact, we would much rather have it quicker than four months," Costello said. "We'll see how the process goes. Right now we made sure we submitted a complete application and since (the Corps) just got it on (March 25) we'll have to wait and see."
Preventing future mouth bars
Now that the City of Houston is focusing on dredging the San Jacinto River, Costello said he is also looking into preventing future sediment from coming down the West Fork.
"What you want to do is capture the sediment at its source, which is upstream somewhere, and so that's what we're going to work on and see if we can come up with some plans to get that done."
Before getting that done, Costello said the city needs to determine where the sediment traps are, who will be responsible for cleaning the sediment traps and what to do with the material.
"That's very important because right now if a dredge operator is working in the river and they take out the material they have to pay a fee to Texas Parks & Wildlife," Costello said. "We're trying to come up with a sedimentation plan to where the state allows whoever is going to be maintaining those sediment traps, the state allows them to keep that material."
HOUSING RELIEF: Houston region finally poised for influx of billions in Harvey housing funds
During the last community meeting in Kingwood, Mayor Turner announced that Governor Greg Abbott allocated $50 million to the City of Houston for flood restoration. Turner said he has specifically designated $20 million to Kingwood.
Costello said those funds will be allocated to several dredging projects in the river.
"So what we have right now is FEMA advanced the city a little over $100 million post Harvey for debris removal. We (spent) $75 million of that advance. So we want to use the extra money from FEMA," Costello said. "Then the governor had given us $50 million for debris removal. We have spent all but $18 million out of it, and we want to use both the FEMA leftover money as well as the governor's leftover money for the dredging operation."
The city estimated the removal of the mouth bar would cost $40 million. Since the city is looking at removing 1.4 million yards of sediment, the price can go up.
"To move anything north of 1.4 million yards is going to cost a lot more than ($40 million)," Costello said. "That's one of the issues about the report that FEMA has to review to see if they agree with the amount of material we need to move and then decide how much they're willing to fund."
Source: chron.com