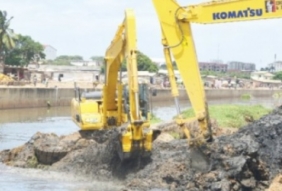 Posted on March 17, 2016
The Alliance for Accountable Governance (AFAG) has described as a rip-off government's $633 million contract with Conti for the dredging of the Odaw River, and wants government to come clean on the matter.
AFAG asked why a 75-kilometer stretch of the Niger River in Nigeria costs $210 million dollars, and the 12-kilometer Odaw River would cost the state more than $600 million.
The pressure group raised the concerns when its leaders visited the project site Tuesday March 15, to raise public awareness about the June 3 flood disaster last year, which killed more than 100 people, and also to demand from the government measures being put in place to forestall a recurrence as the rains have started.
General Secretary of AFAG, Arnold Boateng, speaking to journalists, said government's efforts toward dredging the Odaw River was a political gimmick.
"A similar project on the river Niger which covers over 75 kilometers with cities and other projects [and] green zones, cost nearly as low as $200 million.
"So AFAG does not understand why a less than 10-kilometer dredging operation with virtually no flowing river will cost the taxpayers more than $600 million," he said.
"We believe that this project is a rip-off and Ghanaians must rise up against it, or government must abrogate it, as soon as possible, or AFAG will call Ghanaians to the streets to put a stop to this rip-off and theft of our scarce resources."
AFAG noted that it was in support of dredging the river, but only against the high cost of the project.
"Let me put on record that AFAG is not against the dredging of the Odaw river; we support it 100 per cent in principle because we can't continue for lives to be lost.
"What we are opposed to is the cost of the project. We, therefore, call upon the government to engage local resources to engage the Ghana Institute of Engineers, for them to look at the figures.
"Our consultations tell us that this project can cost as low as $180 million, at most. Government must abrogate that contract and save Ghanaians money. …With the over eight kilometer stretch of the Odaw River, for the past three years, less than 500 meters have been dredged.
"This is unacceptable and that exercise started less than three weeks ago. That tells you that the Ministry went to sleep, the government went to sleep; they only woke up when the media made noise that the rains are here again. Government must stand up. This is a knee-jerk reaction. This is very unfortunate and we condemn the Ministry, we condemn the government for this lazy work and this political gimmick that they are trying to play on Ghanaians."