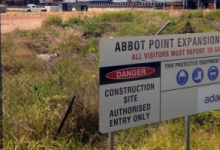 Posted on August 24, 2015
The latest version of Adani's controversial plan to dredge in Great Barrier Reefwaters to expand its Queensland coal port is poised to go before federal environment minister Greg Hunt for approval.
Guardian Australia understands Queensland mining minister Anthony Lynhamwill announce on Thursday that an environmental impact statement on the Abbot Point port expansion is complete, opening the way for an application to Hunt.
It is the third attempt at a plan for Adani's new terminal, after earlier versions involving the dumping of potentially toxic seabed in reef waters and sensitive wetlands were scrapped amid public outcry, legal challenges and a change of state government.
The latest plan will be open to public comment for a month before going to Hunt for assessment under the same environmental laws the Abbott government wants to change to head off "vigilante" legal challenges by green activists.
The desire to change the laws was a response to a successful federal court challenge by conservationists which overturned Hunt's approval of Adani's related Carmichael coalmine under the Environmental Protection and Biodiversity Conservation Act.
Hunt originally approved the dumping of dredged seabed from the port project in reef waters last year. But this plan was abandoned by Queensland's formerNewman government in the face of public criticism of the possible impact on the world heritage listed reef and separate legal challenges by conservationists.
The Newman government submitted to Hunt a revised plan to dump the seabed waste in the sensitive Caley valley wetlands. But this was scrapped with the election of the Palaszczuk government, which has insisted Adani and fellow miner GVK pay upfront for any dredging, which it would not allow to take place unless Adani had received "financial closure" for the project.
The Palaszczuk government, which is technically the proponent for the Abbot Point project, wants the waste to be dumped near the proposed new terminal on a disused industrial site once slated for a BHP jetty.
Greenpeace reef campaigner Shani Tager said some environmental impacts of this latest dumping plan could relate to the site being next to the Caley wetlands and the coast.
"The main thing here is it just seems to be governments that are interested in this project," she said.
Adani has previously cited delays in approval processes as the reason for its axing of contract engineers and project management team, and putting internal engineers on notice. It has rejected industry speculation it was abandoning the project.
An Adani spokesman declined to comment before an announcement by Lynham.
The overturning of Hunt's approval of the mine site means Adani has to obtain a new mining licence. It is also seeking a mining lease and environmental authority from the Queensland government, both of which are the subject of another legal challenge by conservationists in the state land court, where a final recommendation is not expected until the end of the year.