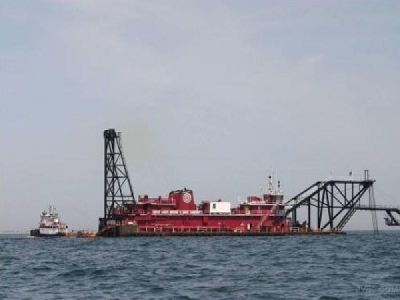 Posted on September 29, 2016
By Claire Lowe, pressof AtlanticCity.com
An access road to the city's dredge material disposal site near the 34th Street bridge was completed last week, allowing the city a more affordable to option to continue dredge efforts in the back bay.
"The completion of the temporary road to Site 83 is an extremely important step in restarting our bayside dredging program," Mayor Jay Gillian said Monday.
Engineers hired by the city estimate that if contractors were to truck 400,000 cubic yards of material from the site, the city would save $5.6 million to $10.8 million, city public information officer Doug Bergen said.
Command Co. Inc. of Egg Harbor City was hired by the city to build the $1.16 million road across the marsh to the confined disposal site known as Site 83.
In July, City Council approved a $7 million contract with Mount Construction Co. Inc. of Berlin to truck 150,000 cubic yards of material out of the site. That amounts to $46 a cubic yard. Bergen said that work will begin in October and continue through Memorial Day 2017.
Prior to this road, Ocean City contracted with Wickberg Marine of Belford for $2.7 million – or $54 a cubic yard — in 2015 to haul 50,000 cubic yards of dredged material to shore via barge in order to truck it to a permanent home in Wildwood. Bergen said that Wickberg was able to remove 42,000 cubic yards of material in that contract.
Site 83 is being emptied to make room for future dredging projects after it was filled to capacity during a 2012 dredging project from 16th Street to Waterway Road.
"Freeing up space at the site will allow new projects to start, while we continue to work with state and federal regulators on different ideas for a sustainable long-term solution," Gillian said.
Bergen said that the city and its consultant, ACT Engineers, believe there are more cost-effective methods, like spraying the material to rebuild wetlands.
In 2015, Ocean City was awarded a $2.6 million National Fish and Wildlife Foundation grant for such a project, but lacked approval from the state.
"ACT also is working with our lobbyist on seeking regulatory permission for a handful of other innovative solutions," Bergen said.
In a separate, but related project, Ocean City has completed dredging Snug Harbor lagoon just north of the Ninth Street bridge and Glen Cove just south of the bridge before its Oct. 1 deadline. The $796,550 project also includes the dredging of the mouth of the South Harbor lagoon north of the airport before Dec. 1.
"That puts the entire project ahead of schedule," Gillian said in his weekly letter to city residents. "These are small projects, but they're part of our ongoing commitment to making all Ocean City waters navigable."
The contractor, Trident Piling Co., of Longport, is utilizing a smaller CDF site under the Route 52 causeway to place the dredged material.
The contract calls for 4,130 cubic yards of silt to be removed from Snug Harbor and Glen Cove, and 4,020 cubic yards from South Harbor.
Engineers hired by the city estimate 900,000 cubic yards must be removed to bring all Ocean City lagoons and channels to a navigable depth of 6 feet.
Last year, the city hired ACT Engineers to develop a long-term dredging plan. The city pledged $20 million back bay and lagoon dredging in its 2016-2020 capital plan.
Source: Cape May County