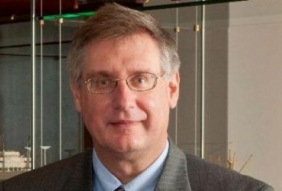 Christopher J. Wiernicki
Posted on March 22, 2016
Speaking at the opening session of the CMA Shipping 2016 Conference, ABS Chairman, President and CEO Christopher J. Wiernicki shared his views on developing the talent needed to lead the maritime industry forward.
Setting the stage for a discussion on "Local Talent, Global Impact," Wiernicki told attendees that the challenges impacting the industry demand new skills as well as a new way of developing leaders, and this requires organizations to change their approach.
"The absolute value of talent we need to develop must anticipate, leverage, and exploit rapidly emerging technologies, make the right techno-economic risk decisions… and recognize the need for change on a global scale," he said. This means the workforce of tomorrow will be able to identify and embrace disruptive technologies.
The driving force behind this change is that evolving technology and regulations are moving the industry to risk-based, data-centric, cyber-influenced decision-making. "New technologies are being developed and applied at faster speeds than we've ever seen to meet regulatory and operational demands," Wiernicki said.
This means industry will require talent with non-traditional skill sets such as systems and data engineers from non-traditional sources and a culture that blends traditional and non-traditional talent. "This will require new types of training and command faster development of our people," he said. It will require individuals who have a holistic understanding of how systems are integrated and whose thinking is data-driven. "We need to balance the need for specialists and generalists in terms of strategic decision-making."
This is a huge shift that puts incredible pressure on companies to create talent development programs that will deliver measurable results in the near term, and be structured so learning is continuous.
"Our industry's long-term success depends on our ability to identify the right talent" with deeper, broader, and wider technical skills. "Learning from other industries, such as medical, aerospace, and automotive, we can all leverage talent development plans and strategies that will deliver the right talent right now," Wiernicki said.
CMA Shipping is an annual meeting of 2,500 leaders of the maritime industry from around the world, the largest gathering of maritime executives in North America.
About ABS
Founded in 1862, ABS is a leading international classification society devoted to promoting the security of life and property and preserving the natural environment through the development and verification of standards for the design, construction and operational maintenance of marine and offshore assets.