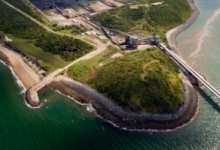 Posted on August 24, 2015
By Donna Field, ABC
The Queensland Government has released the third draft Environmental Impact Statement (EIS) into the controversial Abbot Point port expansion near Bowen in the state's north.
The expansion will enable coal to be shipped from proposed mining projects in the Galilee Basin, like the $16 billion Carmichael mine.
The EIS proposes the spoil from dredging the port be disposed of on land near the existing coal terminal and then re-used.
READ FULL ARTICLE HERE