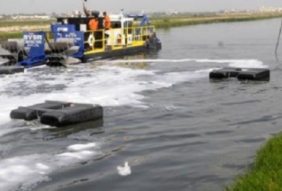 Posted on April 25, 2016
By V Rishi Kumar, The Hindu
The 1,095-km-long National Waterway 4, better known as Buckingham Canal, is in for a major makeover to bring it back to its past glory ferrying people and cargo.
The waterway, which runs from Kakinada in East Godavari district to Puducherry, where it merges into the Bay of Bengal, cutting through Chennai, has the potential to play a big role in transport of cargo and developing the tourism sector, including offering House Boats as in the Kerala backwaters.
The Andhra Pradesh government last week signed a memorandum of understanding (MoU) with the Inland Waterways Authority of India for the development of National Waterway 4 with an outlay of ?3,000 crore.
READ FULL ARTICLE HERE