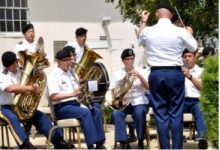 Posted on August 6, 2015
Col. Kirk Gibbs assumed responsibilities as the 61st commander and District Engineer of the U.S. Army Corps of Engineers Los Angeles District during a formal change of command ceremony held July 31 at the Community Center at Fort Mac Arthur in San Pedro, California.
Brig. Gen. Mark Toy, commander of the Corps'South Pacific Division, placed the Corps of Engineers flag into Gibbs' hands at the ceremony. In military tradition, passing the flag represents the transfer of command.
"Colonel Gibbs brings extensive training and real experience in management and strategy," Toy said, "I've known you for several years and you have a wonderful reputation in the Engineer Regiment. I know you will take the district to greater heights and your teammates will flourish under your command."
READ FULL ARTICLE HERE