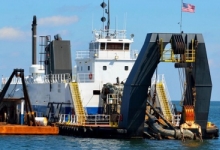 Posted on August 25, 2015
Sections of the Intracoastal Waterway near the Isle of Palms and near McClellanville are expected to be dredged thanks to almost $3 million earmarked for waterway maintenance.
The Post and Courier of Charleston reports (http://bit.ly/1KHf0Hf) that the Charleston District of U.S. Army Corps of Engineers has received $2.4 million for the work andCharleston County has agreed to chip in another half million.
Corps officials say that the federal government must first agree to accept the local money for the work.
Mayor Rutledge Leland of McClellanville says it has been about a decade since Jeremy Creek, which is part of the waterway, in the fishing village was dredged.
"Our creek is just a disaster right now, frankly. Some of these extra low tides, the sides of the creek are almost touching. The bigger boats can hardly move at all except from half tide up," Leland said. "It's reached an emergency situation."
The Corps has received bids for the dredging and expects to finalize the contract and release details next month.
"Until the contract is awarded, we really can't say the price, we really can't say exactly what work will be accomplished, but based on the (bid) opening, there is a better than average chance that we will get to do something in McClellanville," said Brian Williams, who is the Corps district chief for programs and civil projects.
Leland said he was encouraged by a meeting discussing the project last week.
"It sounds like we are going to be a part of the package and it will just be a matter of time before they are here. Probably November or December before we see a dredge here," Leland said.
The Corps' top priority dredging in the Charleston area has been identified as a stretch of the Waterway from the Isle of Palms Connector to the Ben Sawyer Bridge, which links Sullivans Island to the mainland.