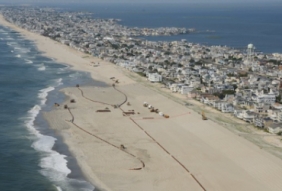 Posted on January 3, 2016
By Daniel Nee, Brick Shorebeat
A total of 32 Brick oceanfront homeowners refused to sign easements that would allow a protective dune to be built on slivers of beachfront property they own, township officials said.
Of the 32 properties, 21 have been condemned by the state, Mayor John Ducey said, while four are actively engaged in negotiations with the township over their value. The easements, as well as the condemnations, only cover small portions of each lot where the dune is located. Many of the appraised values of the land amount to just several hundred dollars, taking into account the built-in value the dune project provides.
Ducey said for the remainder of the properties, an offer letter has been sent to one homeowner who has yet to respond, and it is expected that the remaining two homeowners will voluntarily sign the easements.
READ FULL ARTICLE HERE