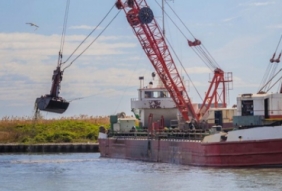 Posted on October 28, 2015
By Michael Pearce, The Wichita Eagle
On Nov. 1, a project to dredge about 3 million cubic yards of silt is scheduled to begin at John Redmond Reservoir. The project is estimated to cost $20 million. Construction of silt disposal sites will be the first step.
The lake is about an hour south of Topeka, just north of Burlington, and a main water source for the Wolf Creek nuclear power facility and several towns in that area. Like all federal reservoirs in Kansas it is also a valued tool for flood control.
Thursday, at a Kansas Wildlife, Parks and Tourism Commission meeting in Burlington, Earl Lewis, of the Kansas Water Office, said the lake has lost about 40 percent of its storage capacity because of silting.
READ FULL ARTICLE HERE