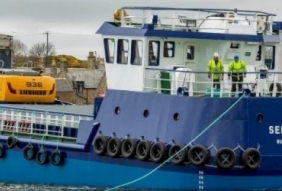 Posted on April 12, 2016
By Ben Hendry, The Press and Journal
Moray Council's new £2.5million dredger has gone to sea for the first time and taken up a berth in the region's biggest harbour.
The 250-tonne vessel was edged gradually from Buckie's Macduff Shipyard construction shed to the bottom of the harbour slipway in a painstaking two-hour operation yesterday.
It was moved on 20 sets of remotely-controlled transporter wheels, then floated off at high tide and berthed at a quay within Buckie Harbour.
READ FULL ARTICLE HERE