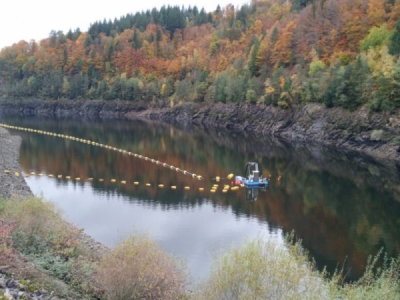 Posted on November 4, 2020
Project Description
The Wehra reservoir lies deep in the German Black Forest. The facility, built in 1977, serves as a storage facility for a cavern power station. In the course of extensive remedial measures, the lake has to be cleared of sediments.
Particular attention was paid to environmental protection. Due to the absolutely environmentally friendly operation of the DRP suction excavator, a large Swiss construction company was able to win the contract together with the German Dragflow Distributor Heide-Pumpen GmbH.
Project development
From November 2020 to March 2021, sediments will now be pumped over a distance of 2 km across the lake and up the dam. There they are then filtered and collected in geotextile bags.
The DRP Series Dredge will work fully automatically, unmanned and in 24-hour operation with a GPS and Echosounder based automation.
Controlling and real-time data recording of the Dredge will be done from the Contractors Headquarter in Zurich. All eventually changes can be done via a 4G connection.
Source: dragflow.it