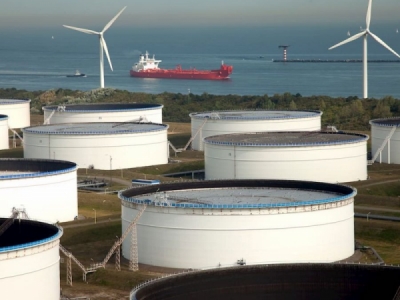 Photo credit: Port of Rotterdam Authority
Posted on November 5, 2020
Sales of traditional marine fuels at Rotterdam port increased by 7.9% on year in the third quarter (Q3) of 2020, according to figures from the Port of Rotterdam Authority.
Data of the Q3 2020 bunker sales volume (versus on year) saw fuel oil at 1.84 million m3 (1.69 million m3); marine gas oil at 298,863 m3 (368,062 m3); marine diesel oil at 133,910 m3 (45,464 m3); and lubes at 17,359 m3 (16,887 m3).
Sales of liquefied natural gas (LNG) as a marine fuel in Q3 2020 totalled 48,623 metric tonnes (mt), a 95% increase from 24,808 mt in Q2 2019.
Rotterdam bunker sales data for 2020 are as follows:
| | | | | | |
| --- | --- | --- | --- | --- | --- |
| Year | Fuel oil | MGO | MDO | Lubes | TOTAL (m3) |
| Q1 2020 | 1,903,761 | 405,023 | 73,402 | 20,575 | 2,402,761 |
| Q2 2020 | 1,780,227 | 365,950 | 88,354 | 18,073 | 2,252,604 |
| Q3 2020 | 1,841,309 | 298,863 | 133,910 | 17,359 | 2,291,441 |
| | |
| --- | --- |
| Year | LNG (mt) |
| Q1 2020 | 35,426 |
| Q2 2020 | 55,637 |
| Q3 2020 | 48,623 |
| | | | | | |
| --- | --- | --- | --- | --- | --- |
| Year | Fuel oil | MGO | MDO | Lubes | TOTAL (m3) |
| Q1 2019 | 1,900,776 | 366,032 | 22,197 | 19,722 | 2,308,727 |
| Q2 2019 | 1,802,538 | 351,118 | 78,622 | 16,749 | 2,249,027 |
| Q3 2019 | 1,693,136 | 368,062 | 45,464 | 16,887 | 2,123,549 |
| Q4 2019 | 1,777,649 | 408,982 | 61,931 | 19,929 | 2,268,491 |
| Total | 7,174,099 | 1,494,194 | 208,214 | 73,287 | 8,949,794 |
| | |
| --- | --- |
| Year | LNG (mt) |
| Q1 2019 | 5,403 |
| Q2 2019 | 6,269 |
| Q3 2019 | 11,075 |
| Q4 2019 | 9,197 |
| Total | 31,944 |
Related: Rotterdam bunker fuel sales volume slips 1.3% on year
Related: Rotterdam port marine fuel sales volume up 2.7% on year in Q1 2020
Related: Rotterdam marine fuel sales volume down 8% on year in Q3 2019
Related: Rotterdam bunker fuel sales volume continue downward dip in Q2 2019
Related: Rotterdam marine fuel sales volume in Q1 2019 down 9% on year
Source: manifoldtimes