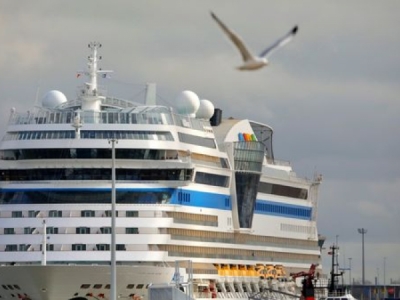 Photo: AP
Posted on March 17, 2020
Shipping ministry says only those international cruise ships which had planned and intimated their call to an Indian port not later than Jan 1, 2020 will be allowed to call on such ports
International cruise ships will be allowed only on the ports that have thermal screening facilities for passenger and crew
The government on Wednesday said that any international cruise ship, crew or passenger with travel history to coronavirus-affected countries, beginning February 1 will be barred from entering all major ports in India till March 31.
"Only those international cruise ships which had planned and intimated their call to an Indian port not later than January 1, 2020 will be allowed to call on such port," the shipping ministry said in a statement, as a measure against spreading of the highly contagious novel coronavirus or COVID-19 that has caused 4,373 deaths across more than 100 countries since it was first reported in China in December
There are as many as 1.21 lakh confirmed cases of coronavirus across the world. In India the count is 60. Since the outbreak, India has evacuated 948 people from COVID-19 affected countries. Of these, 900 were Indian citizens and the rest belonged to different nationalities, including people from Maldives, Myanmar, Bangladesh, China, US, Madagascar, Sri Lanka, Nepal, South Africa and Peru, the government said.
Earlier this week, the World Health Organization (WHO) said that the threat of a pandemic from the coronavirus outbreak 'very real', while also stating that the virus can be controlled.
India has 12 major ports — Deendayal Port Trust in Gujarat, Jawaharlal Nehru Port Trust (JNPT), Mumbai, Mormugao Port Trust in Goa, New Mangalore Port Trust in Karnataka, Cochin Port Trust in Kerala, Kamarajar Port, V O Chidambarnar Port Trust, and Port of Chennai in Tamil Nadu, Visakhapatnam Port Trust in Andhra Pradesh, Paradip Port Trust in Odisha and Kolkata Port Trust in West Bengal.
The ministry said that international cruise ships will be allowed only on the ports that have thermal screening facilities for passenger and crew. All passengers and crew members will have to fill a self reporting form prescribed by the health ministry and submit it to port health officer (PHO), who will carry out thermal screening of all the passengers and crew members on board.
"Until clearance by PHO, passengers will not be allowed ashore," the ministry said.
"Shipping agent/Master of Vessel (will have) to submit all documents related to crew and passengers regarding their travel to/from the COVID-19 affected countries. No sick passengers/crew will be allowed to board the ship by Shipping agent/Master of Vessel," the statement said.
If any passenger or crew show symptoms of the disease, they will be quarantined on the ship.
"Samples of the patient will be collected and sent to designated hospital/lab for testing. If sample is tested positive, the passenger will be taken to the isolation facility attached to the Port and the ship will be asked to move out," the government said.
Any cruise guests who have travelled to China, Hong Kong, Iran, South Korea and Italy and other affected countries in the last two weeks are automatically denied boarding by the cruise lines.
"Any person having contact with anyone within the last 14-days prior to travel who has travel history to mainland China, Hong Kong, Macau, Iran, South Korea, or Italy or any other affected countries is automatically denied boarding," the government said.
Source: livemint.com