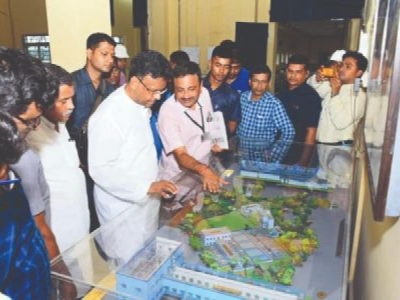 Posted on March 17, 2020
Kolkata: Mayor Firhad Hakim urged people not to throw garbage in river Hooghly and stop rampant use of ground water.
"Posterity will not forgive us for our folly. I request you to respect river Hooghly instead of abusing it and stop rampant use of ground water to save our future generation," Hakim said while inaugurating a 20 mgd green water treatment plant in Palta.
Stating that a movement is needed to save the river, he said: "People are throwing garbage, plastic and even carcasses. There are pockets in river Hooghly that need dredging. The water lifting stations are badly affected during low tide due to mixing water with clay. It is because of this that we have to set up another floating jetty at Watgunj."
Palta water works is now supplying 262 mgd filtered water out of 450 mgd. A comprehensive scheme will be made to prevent wastage of filtered water. "If proper steps are taken to distribute then the people of Kolkata will not face drinking water problem in the next 20 years," he maintained.
Hakim said that a new 25 mgd water treatment plant will come up at Garden Reach, along with a 10 mgd plant at Garia and a 20 mgd plant at Jai Hind project.
The KMC spends Rs 5 to produce one gallon of filtered water and despite tremendous pressure from the Centre and other agencies, the state government has decided not to impose water tax in Bengal.
Source: millenniumpost.in