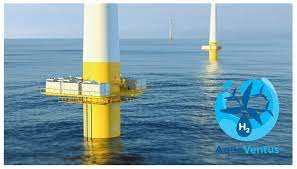 Posted on May 6, 2021
Ten new companies have joined the AquaVentus offshore wind-to-hydrogen project, including offshore wind developers Ørsted, Equinor, and WindMW, as well as the offshore construction company Royal Boskalis Westminster.
The AquaVentus consortium, which is developing a massive project revolving around green hydrogen production powered by 10 GW of offshore wind installed in the North Sea, now counts 50 companies and organisations.
In the latest group, the initiative also welcomed the certification company DNV, the engineering specialist Offshore Wind Technologies (OWT), the seamless steel pipe manufacturer Vallourec, the German Research Center for Artificial Intelligence (DFKI), the consultancy company Buckstay, and the logistics service provider Karlsson.
From January until mid-March, eight companies have joined the consortium, including the offshore wind developer EnBW and Linde – a hydrogen production, transport, storage and distribution company. EDF's hydrogen-oriented subsidiary Hynamics, Brunsbüttel Ports, and the maritime service provider EMS have also been part of the AquaVentus consortium since early this year.
AquaVentus comprises numerous sub-projects along the value chain from the production of hydrogen in the North Sea to transport to customers on the mainland. The projects include the development of offshore wind farms with integrated hydrogen generation (AquaPrimus), a large-scale offshore hydrogen park (AquaSector), a central supply pipeline (AquaDuctus), port infrastructures (AquaPortus), a research platform (AquaCampus), and hydrogen-based maritime applications (AquaNavis).
Under the first sub-project, AquaPrimus, the consortium plans to install two 14 MW wind turbines, each with an electrolyser plant on its foundation platform. The wind turbines would be installed off Mukran, Sassnitz by 2025.
This April, project partners Shell, RWE, GASCADE, and Gasunie signed a declaration of intent to further intensify their collaboration on AquaDuctus, with a feasibility study planned as the next step for the project.