Posted September 30, 2020

We recently talked with Lake Carriers' Association (LCA) President James Weakley to get the organization's perspective on U.S. Great Lakes issues.
Marine Log (ML): What is the mission of the Lake Carriers' Association and who are your typical members?
Jim Weakley (JW): Since 1880, LCA has represented the U.S.-flag Great Lakes fleet, which today can move more than 90 million tons of cargoes annually that make up the foundation of American industry, infrastructure, and energy. These include iron ore, stone, coal, cement, and other dry bulk materials, such as grain, salt, and sand. Our core priorities are the U.S.-flag Great Lakes vessel operators, the crews of the fleet, a safe and efficient navigation system, and the Great Lakes themselves.
ML: How has the pandemic impacted Great Lakes shipping so far, and how has the Lake Carriers' Association responded?
JW: Due to the seasonal nature of Great Lakes shipping, crews were just beginning to arrive for "fit out"—the process of getting the vessels ready to sail following winter layup and maintenance—when COVID-19 started hitting the country in March. It prompted early discussions among our 11 member companies and the mariners on their 46 vessels. We delved into a wide range of topics related to crewing vessels, interacting with onshore and other essential personnel to get and keep the fleet sailing, quarantining, testing, and maintaining healthy crews.
At the time, the Centers for Disease Control (CDC) and the United States Coast Guard (USCG) had no planning for the domestic maritime ramifications of this pandemic. The CDC was focused on international travelers arriving at airports and our land borders, north and south. The USCG was focused on foreign-flag vessels in U.S. waters and ports. It was left to Lake Carriers' and its members to fill the planning and preparedness void for which we did with daily operations briefs exchanging information and best practices among, as always, a collaborative fleet; scouring sources to develop resources for our members; engaging with ports, communities, and customers throughout the lakes to ensure maritime worker safety afloat and ashore; continuing dialogue with CDC and USCG; and preparing planning and response tools including emergency "Red Plans" for vessels and ports to handle perceived, potential, and actual impacted crew and vessels. Strong communications built on solid facts, short and long-term planning, and vessel operators who understood the seriousness of the situation from the start and the need to keep sailing has been key throughout.
As we approach month eight of the pandemic in the United States, no mariners on Lake Carriers' member vessels have tested positive for COVID-19.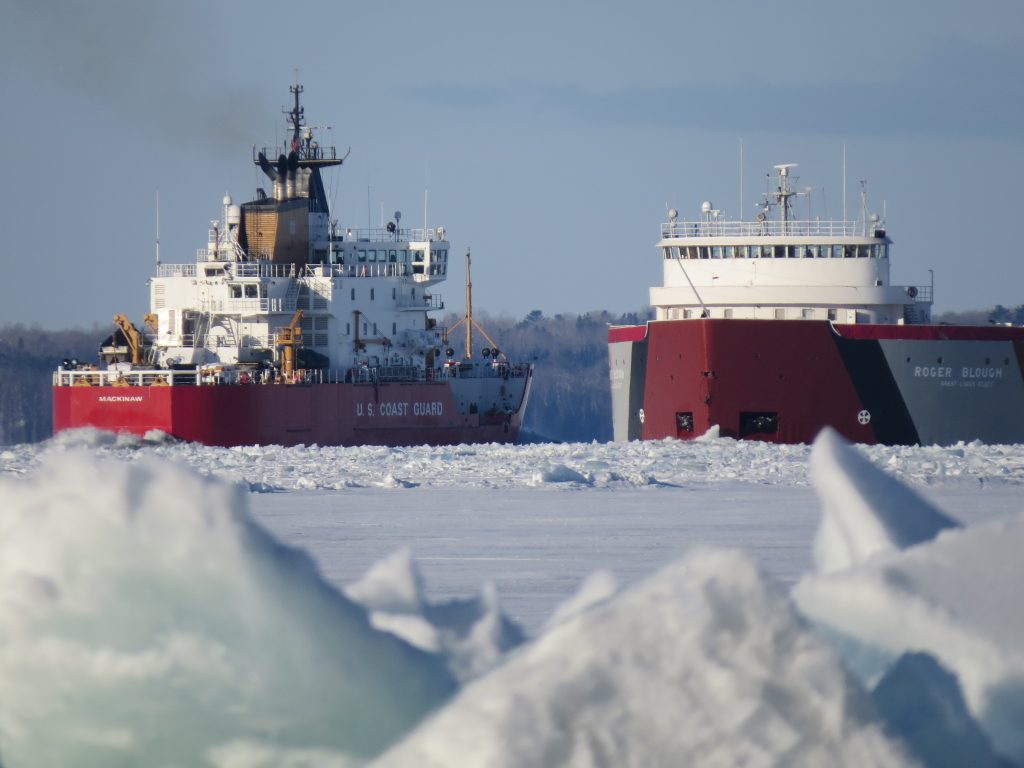 ML: Can you tell us about climate resiliency and infrastructure funding on the Great Lakes in the U.S.?
JW: Most Great Lakes commercial harbors and municipal waterfronts are protected from excessive wave action by breakwater and jetty structures, which are maintained by the Corps of Engineers or privately. Due to inadequate funding, many of these structures have fallen into disrepair, threatening commercial navigation, recreational boating, and waterfront property. Recent high-water levels and severe weather events have crippled these structures further and caused extensive damage in some Great Lakes harbors. The U.S. Army Corps of Engineers estimates that eliminating the backlog of repair and rehabilitation work on Great Lakes breakwaters and jetties will cost $320 million.
Over the past three decades, Congress has restricted appropriations for harbor maintenance to less than the fees collected for this purpose due to budgetary constraints. The result is navigation channels and harbors choked with sediment. The Corps estimates that $150 million will be needed to eliminate the dredging backlog in the Great Lakes Navigation System and restore navigation channels to functional dimensions. Remember, it wasn't that long ago when the Great Lakes reached record low water levels. Many people don't realize that the Great Lakes experienced more than $130 million in breakwater damage from Superstorm Sandy. We need to build infrastructure capable of handling what Mother Nature throws at us.
LCA is a participant in a Climate Resiliency Standing Committee of the binational Great Lakes Commission that is looking at the social, ecologic, and economic impacts of maritime infrastructure. LCA engages in Great Lakes wide planning efforts with federal, state and local governments, non-governmental organizations, environmental organizations, and other groups with maritime priorities like the Governors and Premiers, the Great Lakes Congressional Task Force, and the Great Lakes Maritime Task Force.
The "polar vortex" can bring frigid Arctic air into the region resulting in more extreme, early and extended winter icing conditions. That can impact vessel movement and result in ice dams forming in connecting channels or where inland rivers meet the Great Lakes. Those ice dams often result in flooding. Icebreakers can mitigate flooding by facilitating water flow in ice-clogged waterways.
Source: marinelog