Posted June 16, 2020

For vessels in the 40,000–65,000 DWT size range, such as handymax bulkers or product tankers, the cost of installing a SOx scrubber has sometimes outweighed the benefits. Now Alfa Laval is offering a solution intended to makes it simpler for these vessels to continue using HFO and comply with SOx regulations.
The new PureSOx Express is an open-loop PureSOx system delivered as a fully-enclosed module. Adapted for a simple and cost-efficient fit, it reduces the investment cost, engineering time and physical work of installing a scrubber.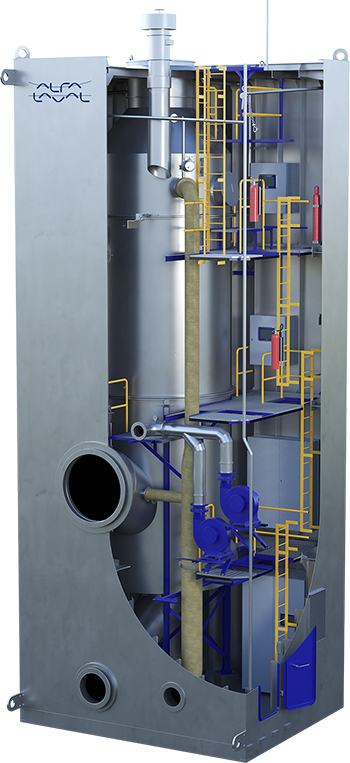 "PureSOx Express uses the proven PureSOx technology that's already used on hundreds of vessels," says Steven Pieters, sales director, Exhaust Gas Cleaning. "But it can be lifted on board and connected without a specialized scrubber team, which means less work at the shipyard and an installation time of just 10–14 days. Not only is the initial investment lower, the vessel can return more quickly to its money-making operations."
Prefabricated and preconfigured, PureSOx Express is designed for up to 75 tonnes of exhaust gas per hour and engine power up to 10 MW. This makes it a one-size-fits-all solution for many vessels of 40,000–65,000 DWT, which typically include bulkers and product tankers.
Though delivered as an open-loop system, PureSOx Express is hybrid-ready, with connections present for a later conversion to a hybrid system.
"Customers who hesitate to commit to a hybrid can feel comfortable choosing PureSOx Express," says Pieters. "PureSOx Express offers flexibility to add equipment for closed-loop operation down the road, should they need to meet stricter water discharge regulations."
Alfa Laval says that while PureSOx Express is easy to install and work with, it cuts no corners when it comes to reliability, function or service. In addition to a packed scrubber bed, it features an effective water trap that ensures safety by preventing any backflow to the engine. Steered with Alfa Laval Touch Control in the same way as other PureSOx systems, it offers the same ease of use and connectivity options.
"Since the first PureSOx system sailed in 2009, we've optimized our offering by learning from each installation," says Pieters. "All that knowledge has also gone into PureSOx Express. No matter which type of PureSOx system they install, customers can count on efficient compliance, supported by Alfa Laval's global network and a comprehensive portfolio of scrubber services—including data-driven services through PureSOx Connect. PureSOx Express is yet another way of keeping our customers ahead."
Source: marinelog