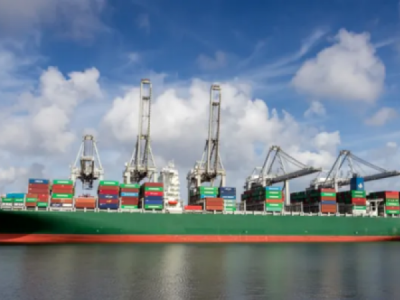 Operators of the ports that follow are not content with the status quo.
Posted on November 12, 2020
What do ports in Maryland, Georgia, Texas, Florida, and California have in common?
A commitment to future growth through current investment. Operators of the ports that follow are not content with the status quo. They see opportunities on the horizon and know that to grab them, they must continually pour in resources (or locate them from private and/or government partners) to expand port operations.
This is happening at so many ports around the country that listing them all would run head-on into our space constraints. What we decided to do instead was simply highlight just some of those expanding that have got our notice lately. If you feel your favorite port should have been included, drop us a line so we'll make extra sure to check it out the next time around.
PORT OF BALTIMORE
A $116.4 million public-private partnership (P3) between the Maryland Department of Transportation's Maryland Port Administration and Ports America Chesapeake is already paying dividends. Among the projects that has been completed as part of the 50-year agreement was the deepening of the Seagirt Marine Terminal, which Ports America Chesapeake operates at the Helen Delich Bentley Port of Baltimore.
A new record was set at Seagirt Marine Terminal at 11p.m. on Aug. 18, when the 5,536th and final container move over three days was accomplished by longshore workers handling the Maersk Edinburgh. The largest number of moves for a single ship in the Port's 314-year history would not have been possible had the berth not been deepened to 50 feet to accommodate ships like the Maersk Edinburgh.
In addition to the deeper berth, the P3 agreement, which was forged in 2009 in the wake of a national recession, includes the creation of a second 50-foot berth, the installation of four supersized container cranes and $100 million in improvements for Maryland roads, bridges and tunnels.
"This record container activity is a significant milestone for the Port of Baltimore and a sign that the maritime shipping industry is coming back and fueling Maryland's economic recovery," says Governor Larry Hogan. "The container growth at the Port of Baltimore shows the benefits of public-private partnerships in delivering infrastructure more quickly and stretching state and federal dollars by also relieving the state of the long-term infrastructure maintenance costs."
PORT OF SAVANNAH
The Port of Savannah handled 4.44 million twenty-foot equivalent container units in Fiscal Year 2020, down less than 1 percent compared to the previous year. Despite COVID-19 disruptions, total tons crossing all Georgia Ports Authority (GPA) docks reached a record 37.77 million, up 0.6 percent, or 223,000 tons, compared to FY2019. Container tons grew 2 percent (560,440 tons) to reach 33.5 million tons for the year, another record.
As you can see, these challenging times were no match for the GPA's ongoing expansion projects, which include the harbor deepening and Mason Mega Rail.
Projects such as these have quickened the pace of commercial infrastructure investment in Savannah. According to the latest report from Colliers International, 5 million square feet of industrial space are currently under construction in the Savannah market. In addition, Savannah is home to a total of 74.4 million square feet of warehouse and manufacturing space.
"What sets Savannah apart from the competition is the sheer capacity of the port's ever-expanding footprint, on and off the terminal," says Will McKnight, GPA's board chairman. "Not only are we focused on the future and providing even greater value to our customers, but we have nearly unlimited potential and capacity to grow our business."
PORT MANATEE
The port in Palmetto, Florida, is advancing an $8.3 million project to nearly double the size of its dockside container yard with the July 28 approval of a construction contract by the Manatee County Port Authority.
The container yard expansion, targeted for June 2021 completion, promises to add 9.3 acres to the existing 10-acre paved facility adjoining Port Manatee's Berth 12 and 14 docks. "Expansion of the dockside container yard to encompass 19.3 acres not only will accommodate dynamic demand from such longtime users as Port Manatee-based World Direct Shipping and Del Monte Fresh Produce Co. but also will literally and figuratively pave the way for further global commerce opportunities at our flourishing seaport," says Carlos Buqueras, Port Manatee's executive director.
The expansion project is a cornerstone of the two-year, $38 million capital enhancement initiative underway at Port Manatee, Buqueras adds.
"In these challenging times for our nation, Port Manatee continues to thrive as a vital economic engine for our region and beyond, serving as a preferred gateway for numerous key commodities," says Priscilla Whisenant Trace, chairwoman of the Manatee County Port Authority. "With the expansion of container yard capabilities, Port Manatee is opening the proverbial door for even greater international trade and accompanying well-paying jobs."
PORT EVERGLADES
Broward County's Port Everglades announced in May it was advancing $1.6 billion in infrastructure improvements that are underway and expected to be completed in the next five years.
Included are: a $471 million berth expansion, the largest infrastructure project in the Florida port's history; the addition of three Super Post-Panamax container-handling gantry cranes, valued at $41 million; the deepening the port's navigation channels from 42 feet to 48-50 feet and widening narrower sections of the channel for safe vessel passage; a new international logistics center, which is currently under construction through a public-private partnership; and petroleum slip improvements.
"The COVID-19 pandemic is certainly impacting this year's bottom line, but we are fortunate that Port Everglades' diversified business sectors of cargo, cruise, and petroleum can address a dip in one business sector and be balanced out with stability in other revenue-generating business sectors, says Glenn Wiltshire, acting chief executive and port director. "As a result, Port Everglades has a history of financial success and has budgeted for several sizeable construction projects that are moving forward at a rapid pace with little disruption from the virus." said Port Everglades'
PORT OF JACKSONVILLE (JAXPORT)
In February, the federal government allocated $93 million for the next phase of deepening the Jacksonville shipping channel to 47 feet from its current depth of 40 feet. A milestone for the project and a major victory for that region of Florida, the federal government has now fully funded the government's portion of deepening through JAXPORT's Blount Island Marine Terminal.
Upon completion of the deepening project, the SSA Jacksonville Container Terminal at Blount Island will feature a vessel turning basin and have the ability to simultaneously accommodate two post-Panamax vessels. In November 2019, the U.S Department of Transportation awarded JAXPORT a $20 million grant to enable the facility to accommodate more containers on an expanded footprint.
"This is the first time JAXPORT has ever received funding in the president's budget, which speaks volumes about the significance of this project to the Southeast U.S. and the nation," says JAXPORT CEO Eric Green. "We are extremely grateful to our federal, state and local partners, as well as the dedication and leadership of the JAXPORT Board, for their steadfast support of our growth and the 138,000 jobs Jacksonville's seaport generates in Florida."
Jacksonville Mayor Lenny Curry summed it up by saying, "This is a significant win for Jacksonville and as I have said before, the continued support from our state and federal partners demonstrates the strength of JAXPORT's future."
PORT OF HUENEME
In June, when Pacific Coast Business Times named Kristin Decas, Port of Hueneme CEO & port director, as a Top Woman in Business for the sixth year in a row, and awarded Jess Herrera, the port's longest-serving commissioner from the Oxnard Harbor District, with the 2020 Latino Leadership Award, both honorees separately mentioned the port's recent growth as being among their proudest accomplishments.
Herrera, whose 54 years of service at the Port of Hueneme began when he was hired as a longshoreman there, has played a vital role in expanding the port's infrastructure, especially with his shepherding of a historic joint use agreement partnership with Naval Base Ventura County that increased port capacity as well as revenue for Hueneme and the U.S. Navy.
Decas, who became the first woman to lead the Port of New Bedford in its more than 50-year history before becoming the first woman to lead the Port of Hueneme in its 83-year history, has seen the latter facility achieve record-breaking cargo growth of 23 percent, handling over 1.6 million metric tons of cargo. Hueneme moves $9.5 billion in goods each year and consistently ranks among the top 10 U.S. ports for automobiles and fresh produce. Port operations bring $1.7 billion in economic activity and create 15,834 trade-related jobs.
"Our port has been able to grow and succeed because of the many partnerships and support from our community," Decas said upon receiving her accolade from the Pacific Coast Business Times. "Together, we have been able to grow jobs, increase exports from our local industries by 66 percent and become the Greenest Port in the United States."
PORT OF BROWNSVILLE
With more than $43 billion worth of projects currently in the works, the Port of Brownsville is transforming the Rio Grande Valley by creating positive investment opportunities and jobs.
What's that? You want numbers? Gotcha: The only deepwater port on the U.S./Mexico border supports a total of $3 billion in total economic activity for Texas and is responsible for 51,468 jobs within the Lone Star State, according to an independent analysis conducted by Martin Associates on port activity for the 2018 calendar year.
Those jobs related to cargo moving through the marine terminals and shipbuilding and rig repair activities resulted in personal income that totaled at $2.6 billion, concluded the analysis, which also found more than $200 million in tax revenue was generated by the Brownsville port's activities.
"The data clearly show that the Port of Brownsville is a remarkable resource with a reach extending far beyond the Rio Grande Valley," says economist John Martin, PhD, who authored the report. "With more than 51,000 jobs related to the port's operations and more than $3 billion in total economic impact across the state, the port is a significant driver of opportunities today and in the future."
Source: globaltrademag