Posted December 5, 2019

Next-generation offshore wind turbines that surpass the height of most modern skyscrapers are driving the need for new installation vessels with impressive lifting capacities and heights
Recognising the need for new lifting vessels to meet demand from giant wind turbines, Luxembourg-based specialised vessel owner Jan De Nul Group has ordered Les Alizés, an installation vessel with a lifting capacity of 5,000 tonnes that will be capable of supporting offshore renewable and offshore oil and gas decommissioning projects. It is the second installation vessel ordered by Jan De Nul in six months.
"We continue to invest in the future of offshore renewable energy. By ordering Les Alizés today, from 2022 we will have not one, but two, offshore installation vessels that will be able to install the newest generation of offshore windfarms," says Jan De Nul Group offshore director Philippe Hutse.
Crucial to supporting the newest offshore windfarms will be the 5,000-tonne, tub-mounted crane that will be designed, engineered, fabricated and delivered by Dutch offshore crane manufacturer Huisman. The crane – which will be the largest of its type installed on a monohull vessel – will be built at the company's production facility in Xiamen, China and installed at CMHI Haimen shipyard.
The tub-mounted crane is designed to allow operations with its main hoist and auxiliary hoist in extreme weather conditions and will be fitted with Huisman's dual main hoist system for easy upending of large structures, such as foundations for wind turbines.
The crane also has Huisman's segmented slew bearing, a fully electric drive system, bridge passage system, an automation package to allow for more efficient operation, and is prepared for as yet unspecified future upgrades.
As a result of its dimensions and impressive lifting and loading capacities, Les Alizés will be able to load out, transport and install multiple wind turbine foundations.
As a floating vessel it will also be able to install next-generation foundations in deeper waters and in areas with more challenging seabed conditions than a jack-up vessel could handle. New generation wind turbines can be more than 270-m high, with blades up to 120-m long and sit on foundations up to 2,500 tonnes. Current offshore installation vessels are experiencing great difficulties in installing these new turbines and their heavier foundations, with their enormous dimensions and installation weights.
Apart from foundations for offshore windfarms, the vessel will also be used to decommission offshore oil and gas platforms. The crane is set to be delivered in 2021.
Besides its main crane, Les Alizés will have a deck loading capacity of 61,000 tonnes and a deck space of 9,300 m², making it specifically designed for loading, transporting, lifting and installing offshore wind turbine foundations. Its large loading capacity will allow Les Alizés to transport multiple, heavy foundations to the offshore installation site, with direct benefits in planning, fuel consumption and emissions reduction.
Unlike the Voltaire, Les Alizés is not a jack-up vessel, but comes equipped with dynamic positioning class 2 capability, allowing it to set foundations and install wind turbines in deeper waters. Les Alizés also has greater lifting capability than Voltaire, 5,000 tonnes as compared to 3,000 tonnes.
Both vessels, however, do share exhaust gas filtering technology developed by Jan De Nul that adheres to strict European Euro Stage V guidelines for emissions on land and inland waterways.
"Similar to the Voltaire, we have financed (Les Alizés) by means of a green loan thanks to the green emissions reduction technology on board the vessel," says Mr Hutse. "During the design phase, as is the case for all our new vessels, we studied very carefully the environmental impact and the solutions to minimise that impact."
A consortium of five banks led by KBC Bank provided financing for both vessels.
Jan De Nul reports that its dual exhaust filter system removes up to 99% of nanoparticles from emissions using a diesel particulate filter, followed by a selective catalytic reduction system for NOx removal.
As a result of these exhaust filtering systems, Les Alizés and Voltaire will be the first oceangoing installation vessels with extremely low emissions (Ultra-Low Emission Vessel or ULEv for short) and with Euro Stage V certification (ULEv notation).
Les Alizés will also have a Cleanship NDO7 label and a Green Passport EU label. The Cleanship label confirms that the vessel checks and minimises the wastewater and all other residual waste. The second Green Passport label means that all materials and hazardous substances are mapped out during the construction phase, to facilitate the recycling of the vessel at the end of its service life.
Ordered from China's COSCO Heavy Shipping Industry, Voltaire will be delivered in April 2022. Voltaire is equipped with a DP2-class system and jack-up system, limiting its operating depth to approximately 80 m, a payload of about 14,000 tonnes and accommodation for 100 persons.
Compared to Jan De Nul's two other jack-up vessels, Vole au vent and Taillevent, Voltaire has almost double the deck space.
One of Voltaire's first assignments will be to transport and install the world's largest offshore wind turbines, GE's Haliade-X, at Dogger Bank windfarm some 130 km off the Yorkshire coast. The Haliade-X wind turbines have a capacity of 12 MW, with a 220-m rotor and 107-m blade and stand 260-m high. Each wind turbine will be installed on a monopile foundation in water depths of 20 to 35 m. Dogger Bank windfarm will encompass three projects, each of 1.2 GW of capacity, or 100 wind turbines.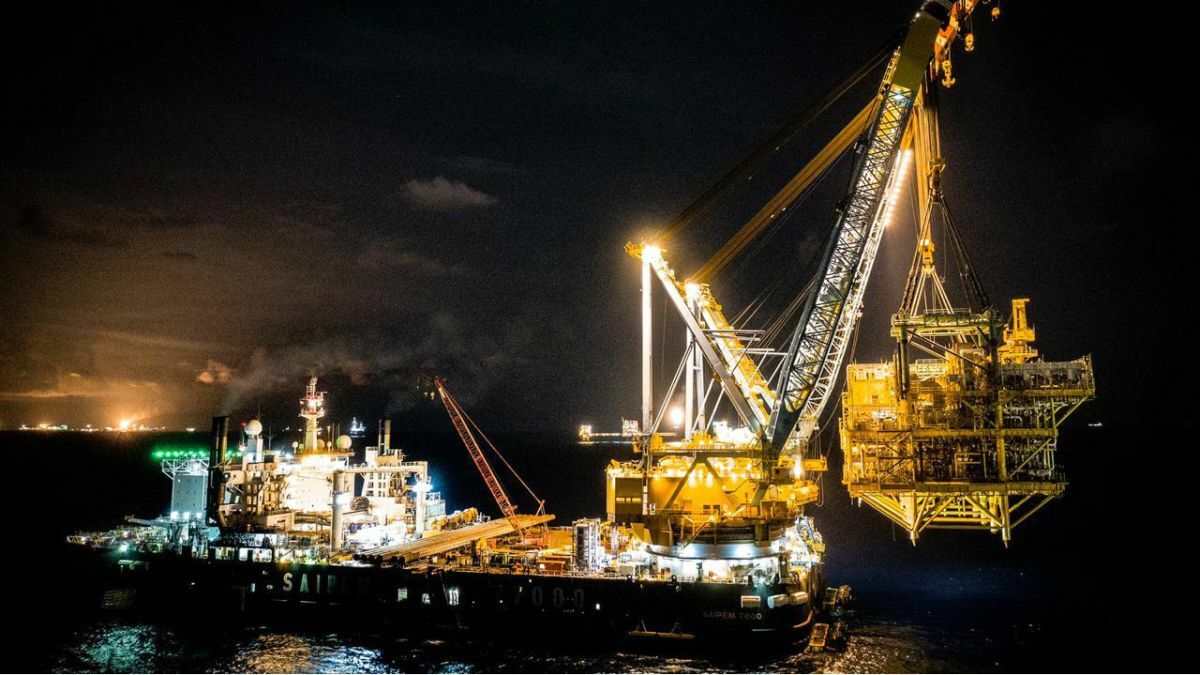 Using its twin cranes, Saipem 7000 set a heavy lift record of 11,100 tonnes for the GOM
New heavy-lift record in Gulf of Mexico
Working offshore Mexico in Campeche Bay, Saipem's semi-submersible crane vessel Saipem 7000 set a new local heavy lift record of 11,100 tonnes in October for the Gulf of Mexico.
The previous local record had been set in 2007, again by Saipem 7000 and again in the Gulf of Mexico, during installation of a 10,473 tonne superstructure supporting the production facilities on the PB-KU-A2 platform.
The new record concerns the installation of a gas compression module for the CA-KU-A1 platform in the Ku Maloob Zaap oil field located offshore Campeche Bay in Mexico. This will allow for a significant production increase in the Mexican oil field.
During installation works, Saipem 7000 played host to executives from Mexico oil company PEMEX and Dragados Offshore, whose local branch built both the PB-KU-A2 and CA-KU-A1 platforms, setting the two heavy-lift records in the Gulf of Mexico along with Saipem.
With its twin fully revolving, bow-mounted Amhoist cranes, DP-class 3 capability and J-lay tower, Saipem 7000 can handle the entire work scope of offshore construction developments worldwide, encompassing pipelaying in water depths greater than 2,000 m and heavy-lift operations up to 14,000 tonnes. The semi-submersible crane vessel can assist hook-up and commissioning as well as initial platform life support activities.
Built in 1987 by Fincantieri Monfalcone Yard in Italy, Saipem 7000 is one of the largest crane vessels in the world, with an overall length of 198 m and beam of 87 m, with accommodation for up to 725.
Source: Riviera Maritime Media