Posted November 7, 2019

Eastern Shipbuilding Group Inc. recently launched the RApport 2400 tug C.D. White, a ship-assist / escort tug for E.N. Bisso & Son Inc. of New Orleans LA. Designed by Robert Allan Ltd. it is first of two tugs of the same design being built by Eastern for E.N. Bisso. Though very similar to the tug Gladys B, delivered in to E.N. Bisso in 2016, the design incorporates modifications in order to better accommodate the owner's operational requirements, regulatory changes and different main machinery.
The particulars of the vessel are:
Length, overall: 80'-0"
Beam, molded: 38'-0"
Depth, molded: 13'-2"
Maximum draft: 16'-10"
GRT (US): < 300
Fuel oil: 27,700 gallons
Diesel Exhaust Fluid: 1,660 gallons
Potable water: 8,800 gallons
The tug is designed and built to USCG Subchapter M and in accordance with the following class notation but will not be classed by ABS:
? A1 Towing Service, Escort Tug, ? AM
The tug is expected to have a bollard pull, ahead of 62 tonnes, approx. and a free running speed, ahead, of 12.7 knots, approx.
Main propulsion power is delivered by twin Caterpillar 3512E, EPA Tier 4 certified diesel engines, each rated 2,549 bhp at 1800 rpm, and driving a Kongsberg US205 P20 FP Z-drive unit with Ø2500 mm propeller.
The electrical plant consists of two identical John Deere 4045AFM85 diesel generators, each with a power output of 99 ekW packaged by Kennedy Engine Company.
The tug is fitted with an off-ship firefighting system with a Counterfire ES-125-400 1,500 GPM pump driven off the front PTO of one generator via a Logan clutch.
The vessel has been designed for an operating crew of up to six. A pantry, mess, store and wet space are located on the main deck and three double berth cabins are located below deck forward.
The tug has been outfitted for escort, ship assist, harbor towing and firefighting.
Deck machinery includes a Markey DEPCF-42 HS electric escort winch on the bow, spooled with 500 feet of 8" circumference HMPE line on a single drum, and a tow post with Markey CEPB-40 5 HP capstan and Washington Chain & Supply tow hook provided on the aft deck.
Ship-handling fenders at the bow consist of one tier of 32" OD x 16" ID cylindrical fenders at the forecastle deck level and 24"x12" M-type fenders below main deck level. The same type M fender is used at the stern and a double strake of 37" diameter tire fenders along the sheer lines of main deck. There is a single strake of 12" hollow "D" submarine fender along the hull side.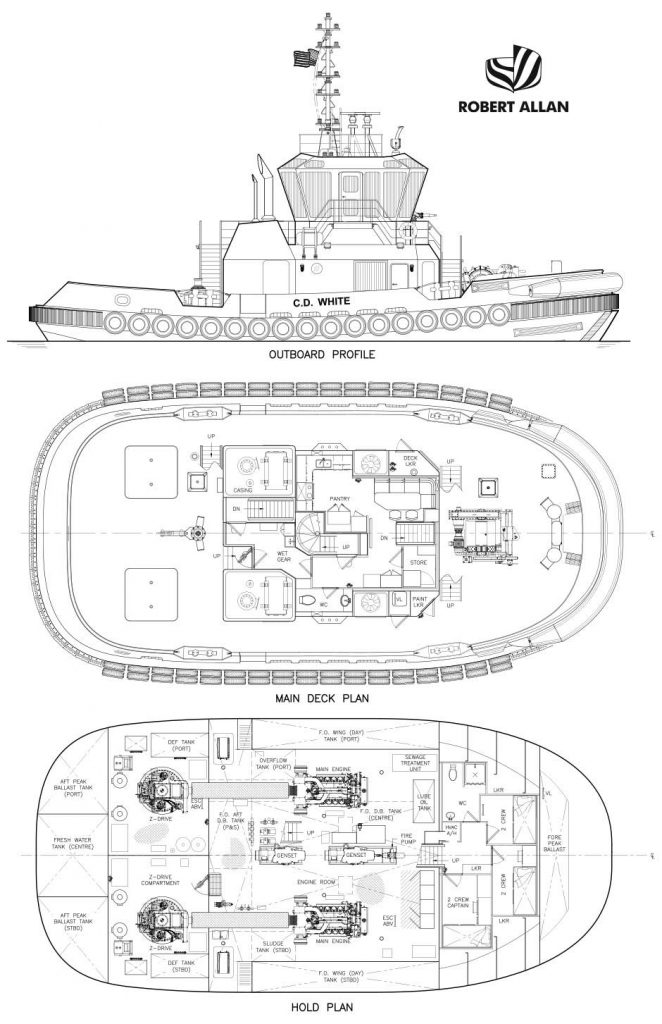 Source: marinelog.com