Posted October 9, 2019

Marcon International, Inc. of Coupeville, Wash., has recently brokered the sale of two U.S-flag tugs as the sellers,Crowley Maritime Services and Kirby Offshore Marine, continue to upgrade their fleets.
Crowley Marine Services of Seattle has sold the Sea Voyager, a 7,200 HP U.S. flag, twin screw ocean tug sold by to private buyers. Originally built by Equitable Equipment Company of Madisonville, La., as the Joshua T for Nolty J. Theriot Offshore, the tug became the Marine Voyager in 1983 when acquired by International Ocean Service, part of WFI Industries / Marine Power & Equipment of Seattle, Washington. She was again briefly renamed Joshua in 1985 before being transferred by a stroke of a pen when Marine Power & Equipment's parent firm was changed to Unimar International. The tug was then renamed Independent Voyager, under ownership of United Marine Tug & Barge.
In 1992, she was acquired by Crowley Marine Services as one of three Sea-Victory class tugs and renamed Sea Voyager.
The 149.5' x 40' x 22' depth, raised forecastle bow tug is powered by twin EMD 20-645E5 diesels with Lufkin 5.93:1 gears and 4-blade stainless steel props in Kort nozzles giving her a bollard pull of abt. 120 short tons ahead. Towing gear consists of an Intercon DD-250 double drum tow winch with capacity for 3,000' of 2.25" and 3,500' of 2.5" wire.Tug is classed ABS +A1, Towing Service, +AMS, Unrestricted through April 2021 and was laid up in active class at the time of the sale.
Since 1986, Marcon has assisted in the sale, purchase, or charter of 123 vessels and barges owned by Crowley Maritime.
KIRBY SELLS JAVA SEA
Kirby Offshore Marine has sold the 4,800 HP twin screw, flush-deck, articulated pusher tug Java Sea to private buyers.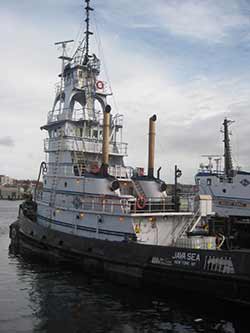 The tug was originally delivered in 1981 by Main Iron Works of Houma, Louisiana as the Patriot (Hull 360) – a 3,000 HP, EMD 12-645E6 powered, conventional twin screw tug with a raised 49.3' height of eye pilothouse. She was operated briefly by Interstate Oil Transportation of Philadelphia, which was acquired by Sonat Marine Inc. of New York. In 1987, Sonat was acquired by Maritrans Operating Partnership of Tampa, Florida who continued to operate the Patriot until 1998 when she was acquired by K-Sea Transportation of New Jersey and renamed Java Sea.
K-Sea converted the tug to an ATB by fitting a JAK-400 coupler systems in 2002 and repowered her with the present 6-cylinder Wärtsilä 6L26s developing 4,800HP at 1,000 RPM and Reintjes 5.56:1 gears in Spring 2004.
Java Sea is fitted with four blade fixed pitch props in Kort nozzles and four flanking and two steering rudders. Ship's power is provided by two 212 kW / John Deere 4045 generators. The tug was acquired by Kirby in 2011 and operated until 2017 when phased out of active service.
Classed ABS +A1, Towing Service, +AMS, Unrestricted through September 2020 she was laid up in active class at the time of the sale, in which Marcon acted as sole broker and represented both buyer and seller.
Source: marinelog.com