Posted October 1, 2019

Indonesia's PT Cahaya Saumdra shipyard has launched the Brilliance of Majestic for Singapore operator Majestic Fast Ferry. The vessel is the first of a new class of Incat Crowther 42 design vessels that offer value and performance, delivering high service speed at a low installed horsepower.
Brilliance of Majestic is also first in a new class of larger ferries designed by Incat Crowther for the operator. At 33 meters and 39 meters respectively, the previous vessels accommodated passengers in a single deck configuration that reduced weight and construction complexity.
The new Brilliance class has been developed by a requirement to carry more passengers at greater speed, while giving business class passengers an exclusive experience. The increased capacity and speed needed to be balanced with capital and operating costs.
The wheelhouse was raised half a level to maintain all-round visibility and an upper deck business class cabin added. To avoid undue increases in weight and complexity, the upper deck cabin is set in from the sides of the vessel and kept relatively short.
Weight saving measures can be seen throughout the vessel with superfluous bridging structure eliminated fore and aft and many new construction methods implemented.
Passengers board Brilliance of Majestic via either aft or midships boarding gate. The main deck cabin seats 261 economy passengers. Three bathrooms are located aft, and there are ample luggage racks. A central staircase adjacent to the midship boarding doors leads directly to the upper deck business class cabin where 43 passengers are accommodated here in larger seats set at a greater pitch. A large business class bathroom is located aft.
The half-height wheelhouse features seats and a workbench for crew.
Crew accommodations are in the catamaran hulls, with a total of 8 berths.
Brilliance of Majestic is powered by quad MTU 12V2000 M72 main engines, each developing 1080kW. She is propelled by quad Rolls Royce 56A3 jets. The vessel has a fully-laden speed of 38 knots.
The propulsion specification, the packaging and the engineering of Brilliance of Majestic combine to produce a vessel that performs extremely well for its capital cost. Additional vessels of the same class are under construction.
Design No: IC18040
Vessel Name: Brilliance of Majestic
Platform: Catamaran
Length Overall: 42.2 m
Length Waterline: 40.0 m
Beam: 10.00 m
Draft Hull: 1.40 m
Depth: 3.40 m
Passengers: 324
Crew: 8
Fuel: 2 x 7,500 liters
Fresh Water: 2 x 2,000 liters
Sullage: 1 x 1,000 liters
Deadweight: 44,475 kg
Service Speed: 36 knots
Maximum Speed: 39 knots
Main Engines: 4 x MTU 12V2000 M72
Generators (Prime): 2 x Perkins 99 kW
Installed Power: 4 x 1080 kW @ 2 250 rpm
Propulsion: 4 x Kamewa 56 A3
Construction Material: Marine grade aluminum
Flag: Singapore
Class: BV HSC 1 + Hull + Mach Passenger Vessel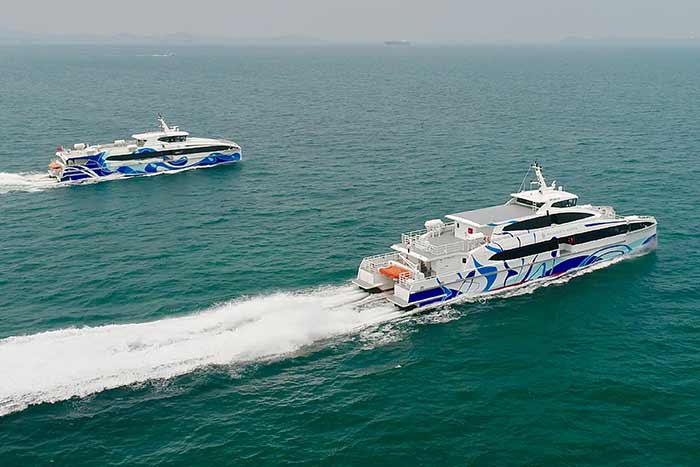 Source: marinelog.com