Posted June 11, 2019

New metropolis on man-made islands will be the most expensive infrastructure project the city has ever seen
Reclamation work is scheduled to start in 2025 and the first residents are expected to move in by 2032
Hong Kong has revealed that its ambitious plan to create a new metropolis on man-made islands in waters off Lantau Island will be the most expensive infrastructure project the city has ever seen. The scheme, known as Lantau Tomorrow Vision, is estimated to cost at least HK$624 billion (US$80 billion), a sum equivalent to the entire GDP of Ethiopia in 2017. Here's what you need to know about arguably the city's most important and controversial project.
What is Lantau Tomorrow Vision?
The plan is to build 1,700 hectares of artificial islands – an area equivalent to one-third of Kowloon – in the waters around Kau Yi Chau and Hei Ling Chau between Lantau and Hong Kong Island. It will also include near-shore reclamation and a cross-sea transport network linking the islands to Lantau, Tuen Mun and Hong Kong Island.
This new metropolis is envisioned to become the city's third economic hub.
However, the government's HK$624 billion estimate only covers the first stage of the plan, which includes 1,000 hectares of artificial islands around Kau Yi Chau, near-shore reclamation and part of the transport network.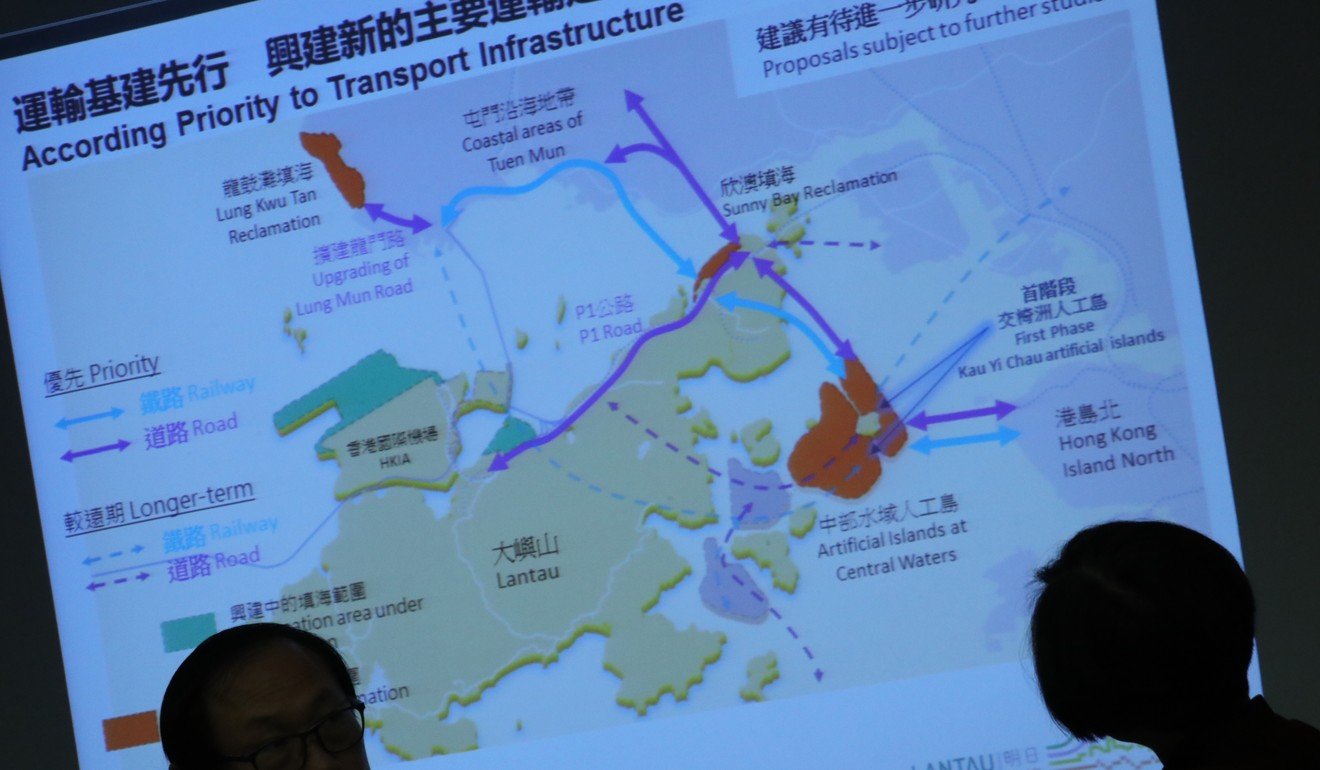 The plan is to reclaim 1,000 hectares of land off Lantau. Photo: Felix Wong
That is because there is no concrete plan yet for the second phase, involving the remaining reclamation around Hei Ling Chau and the rest of the transport network.
The first phase will provide up to 260,000 flats, 70 per cent of which will be set aside for public housing, in an effort to increase supply for the world's least affordable property market.
Reclamation work is scheduled to start in 2025 and the first residents are expected to move in by 2032.
Where did the idea come from?
Chief Executive Carrie Lam Cheng Yuet-ngor announced the Lantau Tomorrow Vision in her policy address last year, but the origins of the idea came decades ago.
Lam's scheme takes her predecessor Leung Chun-ying's plan, announced in his policy address in 2014, a step further. Leung proposed an "East Lantau Metropolis" with a 1,000-hectare artificial island.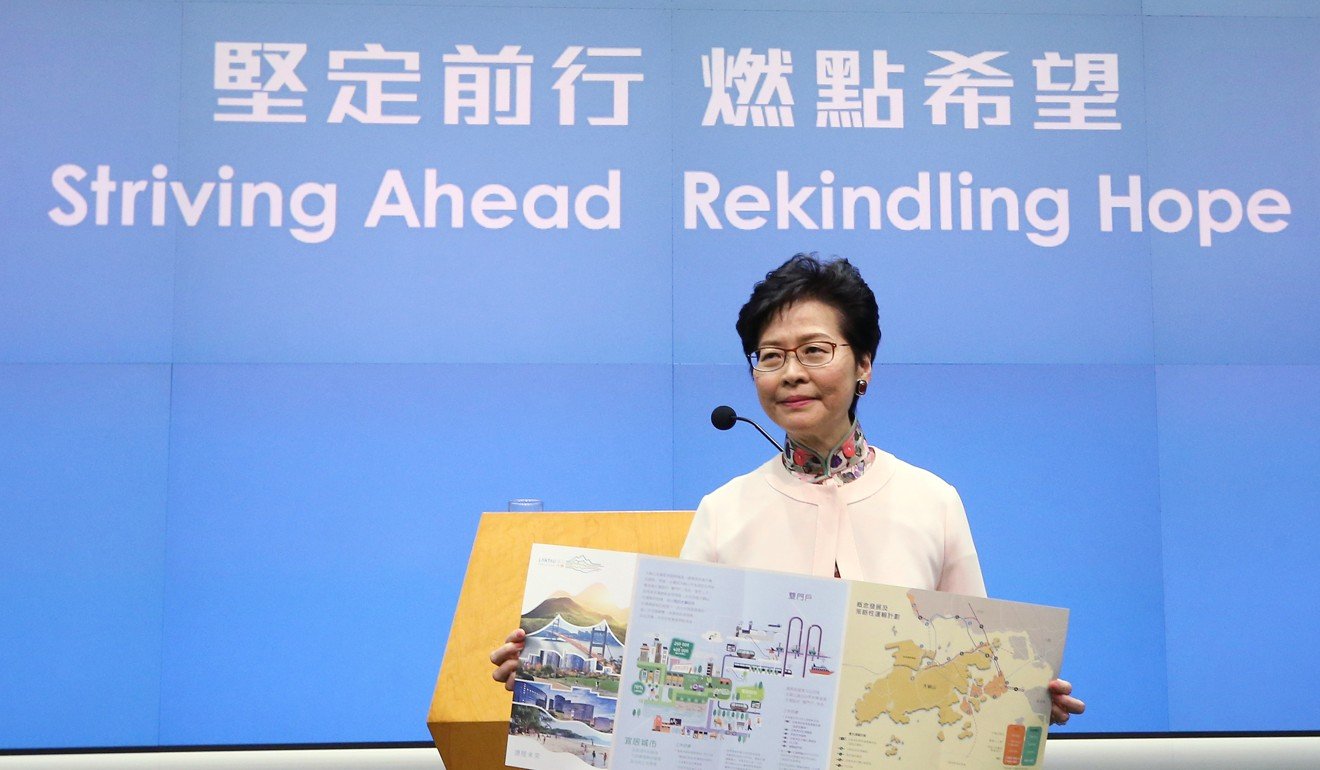 Carrie Lam announced the scheme last year. Photo: Dickson Lee
The idea had a familiar ring to it. In the 1980s, property tycoon Gordon Wu Ying-sheung asked the colonial government to consider massive reclamation to the east of Lantau, creating land for port facilities, a new airport and 400,000 flats. Then in 1997, Wu submitted a proposal to then chief executive Tung Chee-hwa, suggesting reclaiming 3,280 hectares in the area. Tung's think tank Our Hong Kong Foundation also proposed reclaiming 2,200 hectares to the east of Lantau last year.
Why is the plan so controversial?
One of the biggest concerns is the cost. The government denied it would
drain the public coffers
because the estimated cost averaged out to an affordable HK$50 billion annually over 15 years.
But opposition lawmaker Eddie Chu Hoi-dick said the estimate was misleading because it was based on last year's prices. If inflation was counted at "money-of-the-day" prices, the final bill could be more than HK$1 trillion by the time reclamation began, Chu said.
Opposition parties also expressed concern about cost overruns, which had plagued major infrastructure projects in recent years.
Gordon Wu had a similar idea decades ago. Photo: Dickson Lee
A Greenpeace study found it would only cost 10 per cent of the Lantau budget to buy 800 hectares of unplanned brownfield land, although the estimate did not factor in the cost of relocating businesses operating on such sites or infrastructure.
Brownfield sites are farmland in the New Territories damaged by small, polluting businesses such as e-waste recycling workshops. Greenpeace said by spending less money, the government could gain large tracts of land for development while solving planning problems in rural areas.
Source: scmp.com